Aberdeen-Angus Bull Sells in Five Figure Private Deal to Orkney
2009-07-21
Pershore, Worcestershire-based Nightingale Aberdeen-Angus herd, are pleased to announce the sale of their two year old stock bull Nightingale Proud Jake G405 to Orkney-based pedigree breeder Colin Davidson for his Skaill herd.
Nightingale Proud Jake (aged 15 months)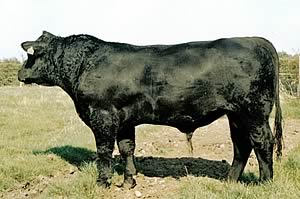 Having toured a few farms throughout the UK in search of a new stock bull, Mr Davidson is more than impressed with his new herd sire and secured him in a private five figure deal.
Speaking after the sale, breeder Willie Robertson, who has retained semen rights for the bull, said: "Jake is a stylish, powerful, long, clean bull with excellent muscling, natural fleshing and good locomotion. He has a Terminal Sire Index of +31 and a Self Replacing index of +40.
"Sired by Nightingale Defiance E264 (now at Blelack) and out of Nightingale Pride Jeanie D237, Jake G405 combines some of the most influential herd sires ever used at Nightingale – Young Dale Dudley 26M, MVBL Lancer 9F, BCC Eileenmeere Lad 19F, HF Databank 2H and Young Dale Hogan 3Y."

Hunting for a Herdsman


Solar-Powered Beef Cattle and Sheep are Environmental Heroes


Strathisla Sorrel Supreme Blonde at Royal Highland Show