2009-07-22
"Simply, a great networking opportunity to meet the key decision makers in the crop protection arena for the exchange of ideas globally," is how long standing exhibitor, Nicola Mitchell, Managing Director, of Ireland based Life Scientific Ltd, regards the BCPC Congress and Exhibition.
BCPC Exhibition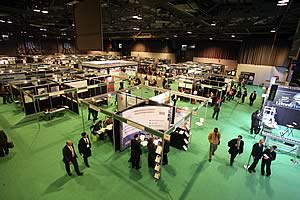 As the largest and most comprehensive crop production and protection event in Europe, the BCPC Congress and Exhibition – which takes place in Glasgow, UK from 9 to 11 November 2009 – is aimed at helping professionals from the sector meet future challenges and gain commercial networking opportunities.

"You just have to be at the BCPC trade exhibition. It is an ideal place to meet new clients and maintain existing relationships. Year-on-year we have always gained new business from exhibiting," endorses Erhard Vandaele, business development manager of Hungarian based LAB Research.

With an estimated £5m of high margin sales negotiated during the BCPC exhibition, this international gathering allows exhibiting companies to conduct business face-to-face with a number of customers, in one place, and in just a few days.

"We believe that there are many opportunities for advancement in this sector," explains first time exhibitor, Miss Wei Hanhan, Assistant General Manager of China based Sinochem Shanghai Corporation. "We are always looking for options to work overseas and get into international markets. We saw that the BCPC Exhibition would offer us a chance to expand our knowledge, gain new customers and learn more about the agrochemical culture."

BIOAGRI has attended this event for more than five years. "It has been one of the most important annual events for the company in terms of sales in the European market." explains Alvaro Vargas, President Director of Brazil based BIOAGRI Labs. "It has certainly helped us connect with a large number of colleagues and get up-to-date with the latest innovations in this area."

Exhibitors also find that the BCPC Congress provides a vision for the future of crop production and protection. "We are exhibiting for the first time because we want to get a clearer understanding of global climatic changes and its impact on crops and its consequential upside or downside on the crop protection business world wide in the future," explains C. M. Ashok Muni, Director and Chief Operating Officer, of Indian company Nagarjuna Agrichem Ltd. "We also hope that it will give us a first-hand feel for the global economic downturn and the impact it is having on this vital market sector."

Although many exhibition stands and hospitality suites have been booked there is still some availability. Companies wishing to get involved should contact the Congress organisers now for further details. To view the full exhibitor list and to register for free admission to the Exhibition visit www.bcpccongress.com.

Plan for Flexibility to Cope with Another Catchy Harvest


Organic Stubble Turnip Seed Now Available


British Field Crops Guide Just Gets Better