2009-07-21
Organic farmers can now benefit from the extra forage produced by a fast-growing catch crop of stubble turnips with the availability of organically produced seeds of the variety Dynamo, from Limagrain UK.
Newly available as organic seed is
stubble turnip variety Dynamo
.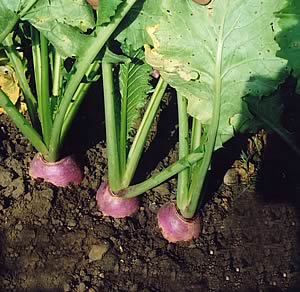 Limagrain UK's Martin Titley explains: "Organic variety Dynamo can be drilled or broadcast sown into post-harvest stubble and a crop can be ready to utilise 12-14 weeks later. It can be grazed in situ to provide a nutritious crop for fattening lambs, or for autumn keep for dairy or beef cattle."
Dynamo is an organic variety with good all round disease resistance. The seed cost for drilling is around £18-20/acre.
For information on Dynamo suppliers, organic farmers can call Limagrain UK on 01522 861300 or visit the website www.organicxseeds.com.

British Field Crops Guide Just Gets Better


Next Generation Fungicide Boosts Performance


Allied Mills Pioneers Premium Market for Top Quality British Breadwheat