2009-06-22
New information on the chemical structure of a major new fungicide being developed for UK growers is shedding fresh light on reasons behind its strong performance in trials.
Latest information on the chemical structure of new fungicide IZM is allowing us to explain why it has given broad-spectrum, powerful and long-lasting control of disease, says Syngenta cereal fungicide manager, Rod Burke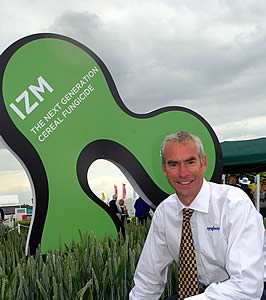 IZM – which was originally announced under its codename of 520 in November 2008, and which contains the active ingredient isopyrazam – is undergoing development by Syngenta as a next generation foliar fungicide in cereals and other crops.

The important diseases of Septoria tritici and rust in wheat, plus Rhynchosporium, net blotch and Ramularia in barley, are all key targets for its development, says Syngenta UK cereal fungicide manager, Rod Burke, with testing showing it provides repeatedly high yield responses and long-lasting control.

"Now, latest findings have also shown IZM to provide extended green leaf retention of 7 - 10 days over other materials," adds Mr Burke, "and we know green area is a key driver for yield.

"In addition to that, scientific studies relating to its chemical structure are also allowing us to shed light on why it has given such improved results."

Essentially Mr Burke says the IZM molecule consists of two key structural elements. The first, which binds to the fungus, has been newly-classed as belonging to the 'pyrazole' group of chemistry. It is this 'base' pyrazole ring which delivers its broad-spectrum fungicidal activity, he points out.

However by adding a second unique ring structure to the molecule – known as a 'benzonorbornene' or 'benz' ring – he says Syngenta scientists have been able to enhance this with three additional, important characteristics.

"The unique benzonorbornene ring element of the molecule delivers more powerful binding to the target site of fungus," says Mr Burke, "which explains its greater potency against diseases, especially against Septoria tritici and rusts.

"It offers stronger binding to the leaf wax – which accounts for its durable protection, for example against the effects of the weather.

"Additionally, it also provides superior chemical stability – which accounts for its longer-lasting control.

"In essence, combined together, this 'benz-pyrazole' structure of IZM enables us to explain why it has given broad-spectrum, powerful and long-lasting disease control.

"New fungicides will be vital for sustaining high crop yields given the concerns about disease resistance or sensitivity shifts to several existing fungicides. As IZM belongs to the benz-pyrazole chemical group, it is also active against strobilurin and triazole-resistant strains of disease. We continue to evaluate this exciting new molecule and will provide updates as work progresses."

In addition, IZM has now also been submitted to PSD for UK approval, Mr Burke confirms.

Allied Mills Pioneers Premium Market for Top Quality British Breadwheat


Last Autumn's OSR Problems Open Major Opportunities for this Season


Whisky Prospects to Drive Spring Barley Future