Swires' Championship Double at Craven Dairy Auction
2009-06-23
Father-and-son dairy farmers Anthony and James Swires, of Townend Farm, Stainburn, Otley, sent out both the champion and reserve champion at Skipton Auction Mart's June Craven Dairy Auction. (Mon, June 22)
James, left, and Anthony Swires, with their Craven Dairy Auction champion and reserve champion.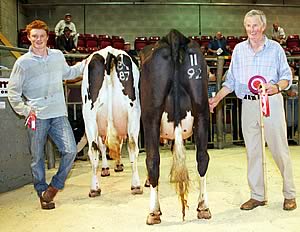 Their first prize newly-calven Holstein Friesian commercial cow, a daughter of the AI bull Geno, was chosen as overall victor by judge Shaun Sowray, of Bishop, Thornton.

He awarded the reserve championship to the Swires' first prize newly calven commercial Holstein Friesian heifer, by another AI bull Manet.

Both home-bred animals were knocked down to the same buyer, Skipton regular Wick Williams, of Nantwich, Cheshire – the champion for £2,100 and the runner-up, also recipient of the BOCM Pauls Dairy Cup, for £1,980.

Mr Williams, who received £80 cash from Farmers & Mercantile for purchasing the champion, continued his buying spree when also paying £2,120, top price in show, for the first animal into the ring, a newly calven heifer from Stanley Flesher, Addingham.

Newly calven heifers averaged £1,725 and newly calven cows £1,604, with KN Hurst, Falton, York, also selling two newly calven pedigree Jerseys, a cow for £1,080 and a heifer for £1,020.

DISPERSAL SALE SUCCESS
Chris Wellock with his herd ahead of his dairy dispersal sale.
All 35 cattle were successfully sold.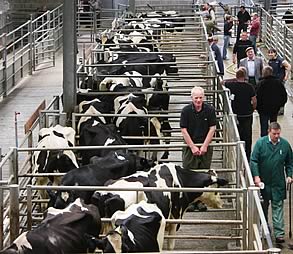 Skipton continues to enhance its reputation as a leading venue for dairy dispersal events and successfully sold 35 Holstein Friesian cattle at the June Craven Dairy Auction, representing the entire dairy herd of Chris and Judith Wellock, of Crag House Farm, Halton East, Skipton.

Mr Wellock has been milking cows man and boy for over 40 years since leaving school at the age of 15. He said he had been forced to quit milk production following the collapse of the Dairy Farmers of Britain co-operative - and at 10p a litre he simply could not afford to continue.

Mr Wellock commented: "Like many other dairy farmers across the UK I have had to bite the bullet. I feel a lot better than I did last week. The decision has been made and we have to go with it." He will now concentrate on beef cattle and sheep at his 120-acre Yorkshire Dales holding.

His selling prices were: In-milk cows – 4th calvers to £1,360, 3rd calvers to £1,500, 2nd calvers to £1,760, heifers to £1,120. In-calf cows – July calvers to £1,250, September calvers to £1,220, October calvers to £1,380.

Dairy and Prime Shows Triple Header at Skipton


Priestley Brontemoor Limousins on Title Trail Yet Again


Broken Dogs Record Average at Skipton