Broken Dogs Record Average at Skipton
2009-05-27
The first of 67 dogs to be put through their paces on the trial field held off all-comers to achieve top price of 2,750 guineas (£2,887) at the well-attended late Spring show and sale of working sheep dogs at Skipton Auction Mart, which produced an all-time record average for broken dogs of £1,684. (Fri, May 22).
Tony Birkett, right, with Jess, top-priced dog at Skipton, and buyer Maurice Gregory.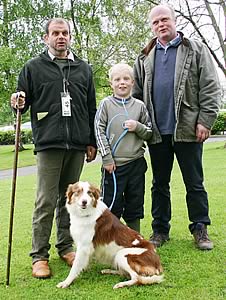 Jess, a 15-month-old black and white smooth-coated bitch from Lancashire breeder Tony Birkett, of Carnforth, had already been placed in nursery trials and showed real promise for the future at Skipton when catching the eye of Derbyshire handler Maurice Gregory, of Peak Forest, Buxton.

Mr Gregory plans to run Jess at trials in his area. She comes well equipped for the job at hand, being a daughter of Ben, from leading trainer, England team trialist and 2008 English National champion Derek Scrimgeour, of Killiebrae Sheepdogs, Threlkeld, Keswick, out of Mr Birkett's own Mossy.

Before his retirement, Ben was a tremendous hill and trial dog, equally at home working on the farm or competing at the most important sheepdog trials in the world. He has proved to be a worthy stud dog, producing trials-winning offspring, including Mike Hubbard's Killibrae Tim and Denis Jenkins' Dell of Killibrae.

Tony Birkett, who also sold Dot, a May, 2006-born, black and white bitch by another Derek Scrimgeour dog, Cap, for 1,900gns, held off a strong late top price challenge from his brother Colin, also from Carnforth, who impressed with his young tri-coloured bitch Pat.

The 13-month-old is by Mac, from renowned Welsh breeder and trialist JAS Gilchrist, of Llangollen, and is a ninth generation pup of Colin's own Molly, formerly used by his father and since utilised to good effect by both the Birkett brothers.

Pat was acquired for 2,600gns by Maurice Gregory's son Ian Gregory, also from High Peak, and, like his father, plans to compete in local trials with his new acquisition.

A second dog also sold for 2,600gns - Fly, a two-year-old red and white bitch from Arthur Kirkham, of Blaby, Leicester. The contract shepherder is a regular vendor at Skipton and was achieving his highest price to date there.

A daughter of Cockburn Charlie, Fly joined Cumbrian cattle and sheep farmer Trevor Procter, of Kirkby Stephen, and will be used as a working farm dog. He is a member of both the Swaledale Sheepbreeders' Association and the North of England Mule Sheep Association.

Up-and-coming trialist Tom Lawrenson, of Brindle, Chorley, entered Zac, a June, 2003-born black and white dog that won a place for his young handler in the English national trials team for the first time last year.

By fellow Lancashire breeder and England trialist, Bacup-based Jim Cropper's Sid, out of Tom's own Tillymaud Nell, Zac sold for 2,500gns to Mrs Sandra Jones, of Gloucester, who will use him on the farm and also plans a return to the trials arena once he has settled in.

Tom holds fond memories of Skipton, for it was there in 2004 that he sold his two-year-old black and white bitch Floss for 4,100 guineas (£4,305), which remains a world record price at an official working sheep dog sale.

Sean Richards, of Hapton, Burnley, a regular attendee at Skipton dog sales, sold Jimmy, a 13-month-old black and white dog, for 2,350gns to Irish buyer Aiden Gallagher, of County Antrim, who is himself a familiar face at Skipton. Jimmy's parents, Dec and Tan, are both from M Cottam, Holmrook, Cumbria.

Huw Francis, of Penllwyn, Powys, again made the journey from Wales worthwhile when selling his January, 2008-born black and white dog Don for 2,200gns. By Huw's own Moss, Don's mother Sooty, from fellow Welsh breeder and trialist Ian Jones, Builth Wells, Powys, was placed 4th in the 2006 International Supreme Championship.

Her son is already following in her footsteps, being an exciting prospect for 2009 nurseries – a major consideration her new owner, Jed Watson, of Dartmoor, who has been in the England trials team for the past two years.

It was the first time Mr Watson, who works in Wales as senior huntsman with Breckon and Talybont Hunt, had attended the Skipton fixture – and he came away impressed. "It was a very good sale, very professionally run, providing a good opportunity to see dogs working," he said.

The North Yorkshire mart remains a popular high profile venue for working dogs sales, with many Skipton-sold dogs having gone on to achieve success in both national and international trials arenas.

Colin Birkett commented: "It is one on the most popular venues in the north in terms of the numbers and quality of dogs, attracting both vendors and purchasers from a wide area, including Ireland and Wales. The opportunity to view dogs on the farm ahead of the sale is also valuable."

The 28 registered broken dogs forward sold to 2,750gns (£1,684), broken, but unregistered dogs to £1,300 (£803), part-broken and unbroken dogs to £750 (£586) and pups to 220gns (£142).

The 2009 working dogs season at Skipton continues with a new midsummer sale on Friday, July 17, organised by popular demand to showcase 2009 nursery prospects, followed by the summer sale on Friday, September 4, and the autumn sale on Friday, October 30.

Millington Grange Youngster Tops Northern Limousin Extravaganza


Reedays Secure Debut Skipton Prime Lamb Show Success


Wallbank Heifer Champion at Skipton British Blue Show