Foundation Stone Laid for New John Deere Technology Centre
2009-Jun-29
Hendrik Hering, the Rhineland-Palatinate minister of economy, traffic, agriculture and wine cultivation, recently attended the official laying of the foundation stone for John Deere's new European Technology and Innovation Centre (ETIC), which is currently under construction in Kaiserslautern, Germany.
The foundation stone laying ceremony for the new John Deere European Technology and Innovation Center in Kaiserslautern, Germany.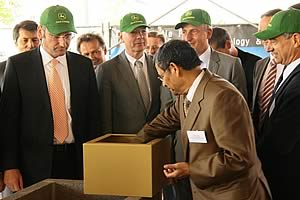 Together with the minister, the Lord Mayor of Kaiserslautern and local business partners, John Deere senior vice-president, Intelligent Solutions Group (JDISG) Bharat Vedak and vice-president, advanced technology & engineering Dr. Klaus Hoehn symboli cally deposited a number of small items (site drawings, contract copies, Euro coins, news papers of the day, toy tractors) in a gold coloured box, which will reside in the main hall of the building.

"The decision to establish the ETIC here in Kaiserslautern clearly demonstrates John Deere's commitment to the European market and to this region in particular," said Klaus Hoehn in his opening remarks. "The extraordinary academic environment and the available infrastructure led to our unanimous decision in favour of Kaiserslautern. Within a short distance of Frankfurt Airport, and well connected by rail and road, the Kaiserslautern technology park is ideally located between two of our most important European factories, Mannheim and Zweibruecken."


An artist's impression of the finished building.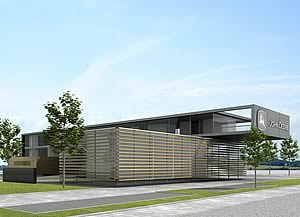 In light of Deere's global strategy to provide high technology solutions to customers, Hoehn also outlined the importance of the 11 million Euro investment in Kaiserslautern, which complements similar assets in the United States and India. "Our investment of more than 900 million US dollars into research and development in 2008, and into new R&D assets around the world, reflects that Deere has become a truly global player," Hoehn concluded.

The Kaiserslautern ETIC will become operational in spring 2010, and has been designed to accommodate up to 200 employees, mainly engineers and software specialists. Among other disciplines, the ETIC will focus on intelligent mobile equipment technology applications and other advanced engineering solutions.

Masons and Kings Join John Deere Forces


Case IH Wins Two RASE Awards for Axial-Flow Combines


John Deere GreenStar Lightbar a Hit in Europe