John Deere GreenStar Lightbar a Hit in Europe
2009-06-18
Designed for newcomers to the world of guidance, including small and medium size livestock farms and medium size arable farms, John Deere's recently introduced GreenStar Lightbar guidance system is emerging as a best-seller.
The GreenStar Lightbar guidance system
has become a best-seller in Europe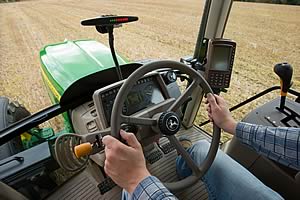 Only four months after its official launch, almost 2000 units of this easy to install and easy to use system were ordered throughout Europe.
"With GreenStar Lightbar, we have successfully addressed the needs of customers who seek a simple, straightforward and cost efficient solution for their farm," says Ralf Ulrich, marketing manager of John Deere AMS Europe. "This parallel tracking system helps farmers to achieve higher levels of accuracy and input cost savings when operating in the field with wider implements like cultivators, crop sprayers or lime spreaders – especially in challenging conditions like fog, dust or at night."
Ready to use in under 10 minutes, the system is compatible with John Deere machines and other equipment brands which operate with a 12V power supply. The system is based around the new StarFire 300 EGNOS only receiver, which is mounted on the vehicle cab. The GreenStar Lightbar display uses LED indicators, each representing a 10cm deviation from the ideal track, to help the driver steer straight and parallel with previous work.
For its unrivalled ease of use, John Deere's GreenStar Lightbar has already been recognised with innovation awards at two Spanish trade shows this spring – CIMAG in Galicia and AGRARIA in Valladolid.

McCormick Boost for Martin Richards Agricultural Engineers


Farm Machinery Dealers at Your Service


2009 British National Ploughing Championships Return to Soham