Case IH Wins Two RASE Awards for Axial-Flow Combines
2009-06-19
Case IH's flagship Axial-Flow combine range has won two awards in the annual RASE Machinery Award Scheme, which recognises innovation and reliability in agricultural machinery.
Case Axial-Flow 20 Series Combine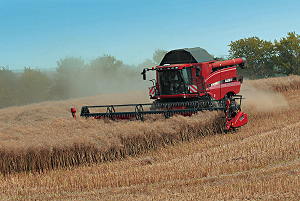 The unique awards are based on the experiences of commercial operators using the Axial-Flow 10 Series, which was recently upgraded to the advanced Axial-Flow 20 Series.
Winning a Silver Award for its small tube rotor technology and 'Power Plus' transmission drive, the Axial-Flow combine also won the Health and Safety Executive Award, presented to an entry that improves safety through design.
In its winners' report, the RASE highlighted the capacity, reliability and safety benefits of the Axial-Flow combine. "Users found that even in the difficult season of 2008, they were achieving good outputs and with the ability to rock the rotor to clear blockages it saved a considerable amount of time. Many reported daily maintenance to be minimal due to the reduction of the number of pulleys and shaft bearings, which improved reliability.
"Maintenance and unblocking are major causes of serious and fatal injuries across a range of agricultural machines. The simplicity and low daily maintenance requirement [of the 'Power Plus' transmission] was cited by many users as a positive benefit. In addition, the operator is able to 'de-slug' the machine from the cab … removing the risks that can arise from having to gain physical access and clear material manually."
Small Tube rotor and Power Plus drive
The latest Small Tube rotor is more streamlined and compact than the previous design. The crop is handled even more carefully than before and the quality of the straw improved without compromising on capacity and grain quality. The Axial-Flow principle of grain-on-grain threshing results in a very low level of cracked grains and very high germination rates for harvesting seed. The new rotor also reduces fuel consumption despite the increase in performance and throughput.
Using the proven Power-Plus transmission system, the rotor, feeder and header are driven by a belt-free system. The rotor drive system features a continuously variable transmission that provides smooth speed changes, low maintenance and gradual acceleration without peak loading. The drives do not need to be serviced during the harvesting season and the reverse drive feature allows the operator to expand the rotor concaves and then reverse the rotor from the cab: a simple and effective way to clear blockages.

John Deere GreenStar Lightbar a Hit in Europe


McCormick Boost for Martin Richards Agricultural Engineers


Farm Machinery Dealers at Your Service