McCormick Boost for Martin Richards Agricultural Engineers
2009-06-17
A Dorset agricultural engineer is preparing for a boost to his business after winning the local franchise for one of Britain's leading farm tractor suppliers.
Meet the team (from left): Martin Richards; Peter Knight (parts); Richard Rossiter (sales); Ian Andrews (service technician), Mike Ball (service manager) and Susan Pollard (finance and marketing) with little Lottie. Not present for our photo was service technician Ian Howlett.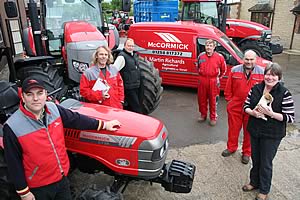 Martin Richards has created two new jobs at the machinery service and repairs business he runs at Kingston near Sturminster Newton – one in sales and one in the spares department – to handle McCormick tractors in the area.

"Until now, I've concentrated on supplying local farms with workshop services and used tractors," he says. "But the time is right for expansion, so we're investing in the franchise to supply new tractors and support customers who buy them."

Martin started his business – Martin Richards Agricultural Engineers – in 1980 after learning his trade as a workshop apprentice at South West Farmers. He then worked at Kingston Maurward College and lectured on agricultural engineering at Norton Radstock College before starting his own business.

In addition to McCormick, the dealership has started representing a number of leading British equipment manufacturers, including Cousins of Emneth, Fleming Agri-Products, Foster Farm Equipment, Harry West, Lewis Loaders, McConnel and Teagle, plus overseas suppliers such as Major, MX Chillton, Pottinger, Quicke and Seko.

"Taking on McCormick and a number of implement franchises has helped justify employing our new salesman, Richard Rossiter, and our new parts manager, Peter Knight," explains Martin. "They join an experienced workshop team – Mike Ball, Ian Andrews and Ian Howlett – who are being fully trained and equipped with the latest diagnostic tools to support the tractors we supply."

Susan Pollard handles the company's finance and marketing.

The territory mapped out for McCormick sales covers an area from between Bournemouth and Weymouth on the south coast, north to a line roughly between Wincanton and Combe Bassett.

This new territory, bordered by Graham Vowles at GA Vowles to the west, Rob Uphill of Uphill & Sons to the north and Richard and Lee Dovey's dealership at Beaulieu to the east, gives farmers, contractors and other tractor users in the area closer access to a McCormick dealer for sales and product support.

"We looked at a number of tractor makes but decided the McCormick range has the best line-up for the different farming and other rural enterprises we have in this area," says Martin. "We can now supply anything from a 75-90hp C-Max utility tractor or a well-equipped 100-130hp MC general-purpose power unit to a 200hp arable tractor – as well as the basic 50-60hp TAFE tractors we continue to import from India."

Add to that the McCormick 35-50hp compacts and 80-90hp compact 'fruit' tractors, plus the Valpadana specialist extra-narrow and reverse drive models, and the business can supply tractors and implements for any rural enterprise – from smallholdings and large private or commercial properties with grounds maintenance needs to intensive dairy and arable farms.

The first four tractors held in stock reflect this variety: a 28hp CT28 compact tractor; a 93hp C100 Max complete with McCormick LiftMaster loader; a 127hp MC135 Power6 and a 167/171hp XTX165 – one of the newest additions to the McCormick range.

"We also have a McCormick 'courtesy' tractor and loader for use when customer tractors are in for servicing and we're booked in for training courses to ensure we provide the sort of back-up that farmers expect," says Martin Richards. "We've established the basic infrastructure needed to make a success of the McCormick franchise and I'm pleased with the response we've had from customers."

Farm Machinery Dealers at Your Service


2009 British National Ploughing Championships Return to Soham


Claas Xerion Tractor Awarded RASE Silver Medal