Claas Xerion Tractor Awarded RASE Silver Medal
2009-06-04
The versatility and practicality of the unique CLAAS XERION tractor has been recognised by the Royal Agricultural Society of England (RASE), who have awarded the XERION one of its prestigious Silver Medals.
Claas Xerion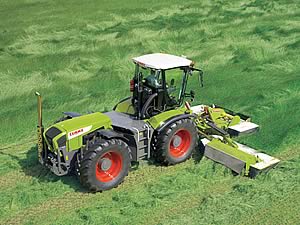 Silver Medals are awarded to machinery that, in the RASE Judges opinion, offers features that provide outstanding advantages for the user and is a major item of equipment.
In their summary, the Judges stated that:
'The XERION provides excellent versatility and the TRACVC provides the ultimate versatility not only in its range but amongst its competitors. It can be used as a heavy draft tractor during cultivations and then simply used with the reversible cab for operations such as clamp work with the buck rake, reducing the number of machines required on the farm and maximising its use throughout the year.'
'With four large equal sized wheels a larger contact area with the ground is achieved when compared to a conventional tractor, it also reduces pressure on the ground through the enlarged tyre footprint thus reducing soil compaction. Combined with its 50-50 weight distribution maximum tractive performance can be achieved through all four wheels.'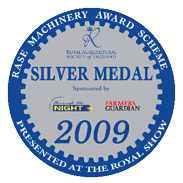 'Although a large tractor it has excellent manoeuvrability through 4 wheel steering, which enables the turning circle to be at least as good as a smaller conventional tractor.'
'All users confirmed that the XERION's tractive performance exceeded expectations along with its versatility and manoeuvrability.
Unlike a tracked machine or dual wheeled tractor the XERION had good road speed up to 50 km/h and its transport width was not an issue, which meant downtime was kept to a minimum.'
Launched in its current form in 2004, XERION is available in three variants – TRAC where the cab is positioned in the centre of the tractor; TRAC VC which has a reversible cab and SADDLE TRAC with a forward positioned cab, with maximum power outputs of 340hp and 388hp.
The XERION is truly unique and its current iconic status within agriculture is the result of Helmut Claas's vision in the late 1970s to develop a multi-purpose power unit capable of handling a far wider range of operations than a conventional tractor.
Even at that early stage, one of the central features of early models was a reversible cab, and for many users it is the ability to turn the cab around for reverse drive use that makes the XERION so versatile.
It is fair to say that this far reaching vision by one of the World's leading agricultural engineers, has meant that for much of its life, XERION has been ahead of its time.
But with the changes that have happened in farming during that time, agriculture has now caught up with that vision, and the unique features that XERION offers are reflected certainly in sales and in the award of the RASE Silver Medal.

John Deere Announces New Global Structure


New Cabs for McCormick CX and MTX Tractors


Kuhn to Preview Sprayer and Baler Ranges at Cereals 2009