New Cabs for McCormick CX and MTX Tractors
2009-05-28
This year's Cereals Event sees the unveiling of significant improvements for operators of two of the best-selling McCormick tractor ranges – the CX and MTX.
New-look McCormick MTX has fresh styling with a one-piece engine hood, extra lights and a four-post cabin with better visibility and interior layout with increased storage.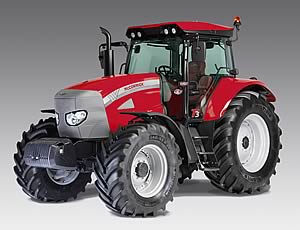 Both get new cabs that eliminate the 'B' post to create a wide doorway, let in more light and give clear visibility to either side, while the MTX also adopts the stylish bodywork of the higher-specification XTX and TTX tractors with the practical advantage of a high-lifting one-piece engine hood making it easier to reach the engine and cooling pack.
"The change to the new cab for the CX completes a package of evolutionary changes that has already introduced 'greener' engines and twin-disc brakes to cope with bigger, heavier implements and trailed equipment," says product specialist Paul Wade. "The new MTX 'T3', meanwhile, brings a popular workhorse tractor bang up to date with practical and driver comfort improvements that match our more sophisticated models."
In both cases, the switch to a four-post structure for the cab – as already used on the higher horsepower McCormick XTX and TTX models – brings a new working environment to the 80-102hp general-purpose McCormick CX 'T3' and 117-133hp MTX 'T3' models.
More modern instruments, a new side-console layout that incorporates a flask or drinks bottle holder, and an upholstered passenger seat are among features of the high-visibility cabin for the McCormick CX.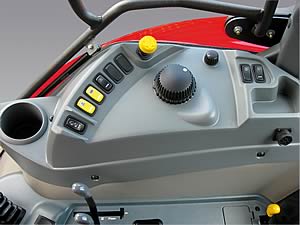 Drivers will enjoy the improved visibility that both cabs provide by eliminating the 'B' pillars on either side, as well as the extra light let in by having fully-glazed doors filling both sides of the structure.
"Outwardly, the cabs look similar with work lights now set neatly into the front of the two-colour roof panels," notes Paul Wade. "But there are practical benefits – such as slide-in air filters that are changed from outside rather than inside, s with the current design."
On the Deluxe cab for the CX – which is available in place of the standard low-profile design – the roof also has a window that provides better upward visibility when using a front loader and can be opened as an extra source of fresh air.
Inside, a more modern instrument display is positioned in front of the driver, while the new side console has a built-in flask or drinks bottle holder for the first time. This is located ahead of a bank of auxiliary control switches freshly laid out in a curve and angled towards the driver for ease of use; close by are the main dials for operating the precision electronic three-point linkage control, which is fitted as standard.
"The new cabin for the McCormick MTX 'T3' also brings new switchgear and a different interior layout, plus the convenience of a lidded compartment on top of the left-hand mudguard," says Paul Wade. "It provides storage for the essential bits and pieces needed for a day's work and a flat and level surface for writing up field and other records."
Quicker and easier access to the engine and cooling pack come from replacing the bonnet and side panels with a one-piece hood that lifts high on its gas struts. It also carries more powerful headlights that, together with the larger number of stronger work lamps, give the MTX 'T3' driver a better view of the tractor's surroundings at night.
"Mechanically, specifications are unchanged since both models already have latest emissions-spec engines and the new twin-disc brakes for the CX have been incorporated since last year," says Paul Wade.
The McCormick CX 'T3' tractors come with a choice of simple Synchro 16x8 transmission with two powershift speeds and synchro-shuttle or the XtraShift 24x24 transmission with three powershift speeds and a power shuttle.
The McCormick MTX 'T3' has a 16x12 power shuttle transmission with four powershift speeds operated by a range lever and thumb pulse switch or using the optional Autospeed controller if full electronic operation is preferred.
Both tractors are available with creep gearboxes providing additional ratios including extra-slow speeds for specialist seeding and other implements.

Kuhn to Preview Sprayer and Baler Ranges at Cereals 2009


John Deere at Cereals/Sprays & Sprayers 2009


Claas Set the Harvesting Technology Pace