Kuhn to Preview Sprayer and Baler Ranges at Cereals 2009
2009-05-28
Cereals 2009 will present a first opportunity for the UK's arable farmers to see both sprayers and balers in Kuhn UK livery following the company's respective acquisitions of Blanchard SAS and the Kverneland Group's baler division late in 2008.
Kuhn LSB 1270 large square baler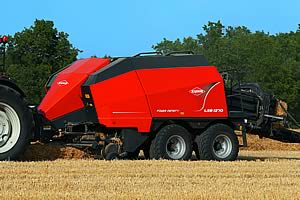 Both mounted and trailed sprayers will be on display to represent a range to be introduced fully from 2010 onwards. The tractor-mounted Altis, with compact polyethylene tanks and forward centre of gravity, is available at up to 1,800 litre capacity and 24 metre boom width for tractors of limited size.
The trailed Grand Large will be on display in 24 metre boom and 3,200 litre tank format, and will ultimately be available at up to 44 metre boom width. The polyester tank and aluminium boom of the Grand Large are notable features in the context of the model's anticipated durability.
Kuhn's new baler range will be represented by the LSB 1270 large square baler as well as a variable chamber round baler.
Products of the renowned baler development programme at the Vicon Geldrop factory in Holland, formerly owned by Kverneland Group, the Kuhn baler range offers ISO 11783 compatibility and the highest levels of technological advancement.
The LSB includes the OmniCut cutting technology and a new quick-change knife system as well as the option of a novel twine release system that reduces the load on the knotter and ensures reliable knotting with even the highest density bales.
Kuhn's variable chamber round balers feature a recently introduced net wrap system that – due to its location at the front of the machine – allows more consistent tension and greater coverage across the bale's width, when compared with earlier models. Current models also feature an innovative arrangement of belt tensioning arm and twin rams that facilitates increased bale density as bale diameter grows.
In addition to examples from the new sprayer and baler ranges, Kuhn's Cereals Event stand will also exhibit the company's ploughs, minimum tillage cultivators, power harrows, drills, shredders, hedgecutters and fertiliser spreaders.

John Deere at Cereals/Sprays & Sprayers 2009


Claas Set the Harvesting Technology Pace


Claas Cebis Goes Moblie