2009-06-21
Growers who failed to establish as much oilseed rape as they'd planned last autumn have been strongly advised to take advantage of the ideal opportunity their extended rotations give to improve long-term profitability by getting into speciality OSR growing this season.
Oilseed Rape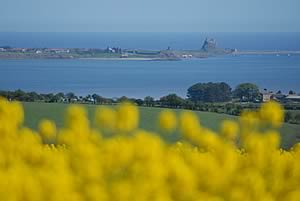 Speaking at the first of 24 regional SMART Farm Open days across the country this week (Tuesday June 16), Masstock seed and crops specialist, David Neale stressed that the sowing problems of last autumn meant far more land that hadn't grown OSR for several years in many parts of the country.
"Land that was due to go into OSR but didn't get drilled last season because of the appalling conditions is unlikely to have grown the crop for at least four years in most rotations," he pointed out.

"This provides the perfect opportunity to introduce a Vistive high oleic, low linolenic (HOLL) crop with the minimum risk from volunteers. All the more so as our current 17.5% over ordinary rapeseed premium Masstock/Glencore contract looks like generating grower returns of £330-£350/tonne for harvest 2010.

"With the leading current variety V141OL delivering yields comparable with most double lows in commercial practice and far greater agronomic flexibility than the original Splendor, Vistive speciality oilseed rape growing is looking more attractive than ever this season," insisted David Neale.

He went on to explain that the spring barley currently occupying large areas of ground originally intended for OSR provides a particularly good entry for a Vistive crop, adding that three years of commercial growing experience left Masstock agronomists particularly well-placed to help get the very most from it both in the ground and after harvest.

"We know both our agronomy and the whole closed-loop supply system we've pioneered in the UK works well," said Mr Neale. "Pre-movement crop testing through Monsanto's laboratory provides us all with valuable assurance that each crop meets the required oil specification before it is consigned to the crush.

"At the same time, we have an established UK crusher demand to serve a growing domestic market for healthier, low saturated cooking oil. So we don't need the extra transport complexity and currency risk of supplying overseas buyers which could easily compromise long-term grower value.

"An excellent rotational opening, much improved variety performance and very good financial prospects from a convenient domestic market make this season a golden opportunity for many more people to get into Vistive growing," he concluded.
"We're well set up to accommodate a major expansion in the national crop. What's more, we'll be testing the first in an exciting range of hybrid varieties which offer gross outputs equivalent to the best 'double lows' on the current RL in the field over the coming season. This means there's more than enough future performance improvement in the immediate pipeline to satisfy even the most demanding grower."

Whisky Prospects to Drive Spring Barley Future


Distilling Milestone Achieved for Forensic Spring Barley


Two Prestigious Industry Achievements for Quench Spring Barley