John Deere at Cereals/Sprays & Sprayers 2009
2009-05-21
John Deere has introduced a new multi-function joystick control for the 700i and 800i Series trailed sprayers fitted with the company's GreenStar 2600 touch-screen display.
Claas Lexion 600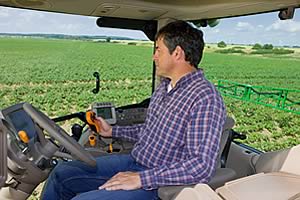 Based on the hydro handle used on the 5430i self-propelled sprayer, this ergonomically designed unit replaces the existing EHC-2 switchbox and controls all the main sprayer functions, in conjunction with the display. These include switching the boom master or individual boom section controls and raising, lowering or folding either the entire spray boom or each individual side.
This new design reduces sprayer controls in the cab to just the multi-function joystick plus a display, providing intuitive control of frequently used sprayer functions as well as the auto-trailing drawbar. A universal connection allows the joystick to move with the driver's seat for greater comfort.
The multi-function joystick is CAN-Bus based, but it can only be used to control John Deere i-Series trailed sprayers in conjunction with either a GreenStar 2600 display or a third party ISO-Bus compatible display. The joystick is standard equipment on all 2009 model year i-Series sprayers, and is also available to retrofit earlier i-Series trailed models.
Both the John Deere 5430i self-propelled sprayer and i-Series trailed sprayers equipped with the new multi-function joystick are also now compatible with the Yara N Sensor, which allows variable applications of liquid nitrogen fertilisers.

Claas Set the Harvesting Technology Pace


Claas Cebis Goes Moblie


Farol Opens New John Deere Dealership