2009-05-07
Many of the region's backward wheat crops could be susceptible to increased levels of Septoria tritici infection unless appropriate T2 treatments are applied at exactly the right time advises Dr Simon Pope of Wynnstay Arable.
Dr Simon Pope say farmers should ensure that T2 timings are spot on to protect wheat crops from fungal infections.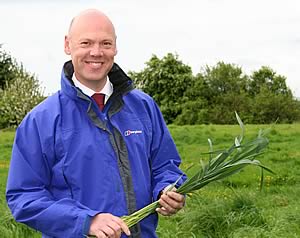 The result of this year's thin, backward wheat crops and dry spring conditions means that there has been a temptation for many growers throughout the North West, West Midlands, Wales and Central regions to hold off with T1 fungicide applications. However, where the third leaf has already emerged, plants that haven't been protected could be at an increased risk of septoria tritici infection, especially following the spell of wetter weather that affected many parts of the UK during the last week of April.

Exposed leaves that remain untreated will face a heightened septoria threat as fungal spores are splashed throughout the canopy during heavy rain showers. Any infection that takes hold will then quickly spread through the plant as the stem extends and the plant continues to develop. The resulting effect will be a dirty flag leaf and significantly reduced yields.

"Roughly 70% of yield comes from the flag leaf," explains Dr Pope, Wynnstay arable sales manager. "It is therefore essential to keep this leaf, and leaf two below, as green and clean as possible, for as long as possible to maximise photosynthesis and yield. Early fungicide application was therefore essential to protect the plant from an early stage.

"If T1 treatments were applied too late leaf three may have already emerged and become infected before a fungicide was applied. Farmers should ensure that their T2 timing is spot on and that they treat crops with a sufficiently high dose of a suitable triazole fungicide to protect the plant and prevent any infection from becoming established. The addition of a strobilurin fungicide to the mix will contribute to the yield potential."

The symptoms of septoria infection can be seen from a very early stage in the growing season, with water-soaked patches quickly turning brown and necrotic on lower leaves. If left unchecked, these lesions will spread to form large areas of dead plant tissue.

"Many wheat crops appeared thin and backward coming out of winter. However the potential is still there for many of these crops to achieve very acceptable yields," Dr Pope continues. "It is in difficult seasons such as this that fungicide timings become more critical. Growers should be extra vigilant to make sure that crops are treated at the appropriate growth stage with a suitable fungicide to protect the plant and to safeguard crop yields," he concludes.

Research Reveals Surprise Rye-Grass Germination Results


Dekalb Launches New Low Biomass Hybrid OSR


Unexpected Rust Now Appearing in Winter Wheat