2009-Apr-08
Be on your guard against unexpected rust attacks when planning April disease control programmes, winter wheat growers are being urged.
With early rust infections being found, it's not alarmist to be considering it in fungicide decisions, believes Broom's Barn director, Bill Clark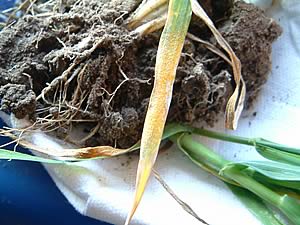 Despite the cold winter – which was thought may have killed off infections – early reports of yellow rust are starting to emerge from several parts of the country.

So far, these include Lincolnshire and various parts of the Midlands, but others may be affected, says Syngenta disease specialist Rod Burke. Even low levels of disease in crops now can provide the focus for a later infection, he adds.

"Although we don't yet know how these early infections will develop, it's important that growers factor them into their thinking for early-season disease control, in order that crops aren't left exposed. Many people may have thought the cold winter would have killed off rust problems.

"Where rusts are a risk, along with Septoria tritici, this adds to the case for including the fungicide Cherokee in April spray timings," he adds.

Independent plant pathologist Bill Clark, director of Broom's Barn research centre, has also picked up early rust reports.

Although it can be difficult deciphering between yellow and brown rust at this time of the season, he says certainly rust is present, so it's not alarmist to consider it along with Septoria tritici at the April T1 spray timing – designed to protect the first of the top three yield-building leaves. "There is certainly rust there. Most of the wheats are susceptible," he says.

For control, a triazole + chlorothalonil combination such as Cherokee is an option, he agrees. "It does rust and it does Septoria tritici. Triazole dose will be important for Septoria tritici and rust," he points out.

In the Midlands, TAG agronomist Chris Page has found the beginnings of yellow rust on the variety Robigus in Northamptonshire.

"It's not surprising given the conditions and the variety," says Mr Page. "Although it's been very cold and dry, the recent milder weather has helped the disease develop. Moisture from overnight dews or rain will continue to provide optimum conditions for development."

With many crops backward this year, another key issue facing growers, says Mr Clark, will be achieving correct T1 spray timings – as they are likely to produce fewer leaves per stem. As a result, he says leaf three could emerge earlier than expected, meaning growers will need to be extra vigilant with crop inspections.

"People who normally look for second node may well find that leaf three comes out at first node. The only way is to dissect the plant. But if you're not bothered my inclination would be to go slightly earlier," he adds.

Mr Burke believes the mobility of certain fungicide ingredients in Cherokee gives a little more leeway if application is made slightly earlier. "They have an ability to redistribute to tissue which may not have fully emerged at the time of spraying.

"If growers have been considering a prothioconazole treatment at T1, they can simply tank mix Cherokee with it – for example 1.25 l/ha Cherokee with 0.4 l/ha prothioconazole – to boost rust activity and provide extra Septoria tritici activity," he adds.

BCPC Highlights Confusion over EU Approvals of Organic Pesticides


Five Point Plan to Help Manage Backward Crops


Pasture Renewal a Priority After Damaging Winter