Farmers Fix Cost of Borrowing
2009-04-15
As the Bank of England Monetary Policy Committee voted to keep interest rates at 0.5%, farmers are showing increasing confidence in the ability of the sector to weather the recessionary climate and are taking advantage of historically low long-term rates to fix the cost of borrowing.
Paul Spencer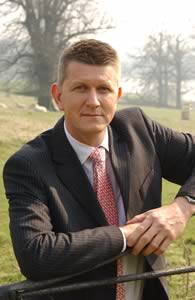 This is underlined by figures from Lloyds TSB Agriculture which show a 345% increase in fixed rate borrowing in the first quarter of 2009 compared to the same period last year.
"Many farmers are recognising that the current economic climate offers certain opportunities and are choosing to bring forward capital investment projects," says Paul Spencer, Agriculture Director for Lloyds TSB Agriculture and The Agricultural Mortgage Corporation plc (AMC). "They recognize that lower interest rates provide a sound basis on which to borrow money for long-term investments and business development."
"The increase in the demand for longer term borrowing can be seen as an indication of the growing level of confidence in the agriculture sector. With many lead indicators being positive, farmers are investing for the future now through projects such as increased slurry capacity, improved grain storage, livestock units and machinery. The combination of well structured and competitive finance and investment in the right infra-structure will ensure that farmers are well placed for sustainable long term growth," he added.
Many commentators predict that base rates could remain at 0.5% for much of the remainder of this year and possibly into 2010. However, it would be wrong to interpret this as an indicator that fixed rates will remain low or even fall over time.
"Because any borrowing decision carries a calculated risk, any responsible lender will underline the importance of seeking independent and specialist professional advice," continued Mr Spencer. "When considering the right long-term risk management solutions farmers should not forget fixed interest rate and foreign exchange hedging strategies. Lloyds TSB Agriculture has access to a specialist Financial Markets team that works with its farming customers to ensure the right plan for their business is adopted."
"The aim for any business should be to minimize the cost of borrowing and get the most from their interest rate strategy, whilst retaining appropriate flexibility for their business," said Mr Spencer.
Lloyds TSB Agriculture: Lloyds TSB Agriculture provide a personalised banking service to farmers and rural businesses delivered through a network of over 90 managers experienced in agriculture, based in 43 rural offices throughout the UK. In recent years Lloyds TSB Agriculture has seen strong growth in its acquisition of new customers - the rate of customers moving to Lloyds TSB Agriculture from other banks currently stands at around 750 farmers per year.

The Agricultural Mortgage Corporation PLC (AMC): AMC has been lending exclusively to the agricultural industry since 1928, and today has a ~30%share of the medium to long-term lending market in agriculture in the UK. As such, AMC is a market leader in the provision of medium and long term secured loans to the UK farming industry and aims to be the lender of choice on the basis of competitive terms and quality of service. The company is a member of the Lloyds Banking Group having been purchased by Lloyds Bank in 1993.

Starting Agricultural Production in Ukraine


Young Farmers Count on Calf to Swell Charity Coffers


Tenant Farming Forum Continues to Make Progress