Young Farmers Count on Calf to Swell Charity Coffers
2009-Apr-07
A cuddly calf adopted by Aire Valley Young Farmers Club is already well on the way to raising its first £1,000 for the club as it competes in a countywide challenge styled around The Apprentice television programme.
Tintin takes a bow. Pictured with the calf are, from left, Keelham Hall Farm Shop's co-owner James Robertshaw, Aire Valley YFC's Charlotte Ormondroyd and young visitor Rose Cameron.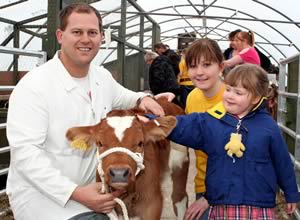 Counting on the youngster to accumulate cash for charity, the weeks-old brown-and-white Limousin-cross calf, donated by local farmer Keith Downs, of Milner Field, Bingley, raised over £700 over the first weekend in its new home at Keelham Hall Farm Shop, Thornton, Bradford.

The fund-raising programme began last weekend with a "name the calf" contest, which attracted over 200 entries and saw the calf christened Tintin, courtesy of the competition winner, Bradford youngster Alex Barlow. The young farmers also swelled funds by packing bags for customers at the Brighouse & Denholme Road shop.

Tintin is being housed in the children's animal petting area at Keelham Hall Farm Shop and will feature prominently in other competitions and fund-raising activities as part of the shop's Easter celebrations and seasonal product promotions, which run until Tuesday, April 14.

The club is fronting an Easter egg treasure hunt for children, with all clues about farming and food - and one specifically related to the calf. All youngsters successfully completing the task will receive a free Easter treat. They will also have an opportunity to meet Oscar, the larger-than-life Easter Bunny.

Keelham Hall Farm Shop's co-owner Victoria Robertshaw explained: "The treasure hunt is both a fun and educational experience. There isn't a great deal going on in our part of the world over Easter for children and families, so we thought that we would organise something special to help plug the gap. We are also more than happy to offer our support to Aire Valley Young Farmers Club in this unique and worthy project."

Aire Valley YFC, which meets at East Morton Institute, Bingley, has taken up the gauntlet thrown down to young farmers clubs across Yorkshire by national healthcare charity Sue Ryder Care. They are being challenged to demonstrate their entrepreneurial flair in a "Rural Apprentice" contest.

It will culminate at the Yorkshire Federation of Young Farmers Clubs annual County Show at Pateley Bridge in June, when members from participating clubs will make a presentation and answer questions on their efforts before of a panel of expert judges.

Back with the calf, animal feeds firm Carrs Billington has donated four bags of calf feed, while Keighley-based agricultural merchants Alwyn Pickles & Co has given a bag of calf milk.

Aire Valley YFC chairman Bethany Warin said: "We have made a very promising start and would like to thank all members of the public, along with all other sponsors and supporters, who have contributed to the cause to date.

"We remain optimistic that our cute calf will grow to become a proverbial cash cow – and that when it comes to the crunch in the Rural Apprentice competition, we will be hired, not fired!"

Tenant Farming Forum Continues to Make Progress


Union Calls for Balanced Scottish Science Agenda


Rural Business Issues in the Spotlight