New Era for Holstein Breeding - DairyCo
2009-Apr-08
As proof runs go, this week's launch [Tuesday 7 April] by DairyCo breeding+ rates as one of the most exciting for years.
O-Man daughter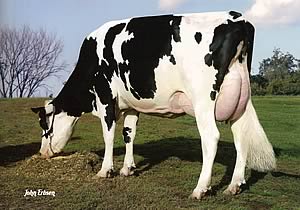 A sea-change in AI companies' selection policies sees a new domination at the top of the ranking by bulls which offer the prospect of improving daughter health and fitness, with almost every bull in the top 10 being a cell count improver, all offering better than average daughter lifespans and most transmitting better than average daughter fertility.
"And the good news is that all of these traits – which grass-roots farmers have been demanding for years – offer the genuine prospect of long-term improvements in profitability in dairying," says geneticist Marco Winters of DairyCo breeding+.
"The four newcomers to the top 10 in particular have fitness traits in abundance, with all being positive for legs and mammary; an impressive average SCC Index of -14 and an average Fertility Index of +3.1," adds Mr Winters. "These are all traits the Profitable Lifetime Index is designed to target so it is reassuring to see bulls which are fitness improvers doing so well."
The bull behind many of these changes is the legendary O-Bee Manfred Justice (or O-Man), whose sons made a tentative arrival in the previous proof run, but which this April are coming through with a vengeance.
And while five O-Man sons feature in the new top 10, the bull himself remarkably retains his long-held number one position, increasing his PLI to a phenomenal £285 and extending his lead, with 563 UK daughters now contributing to his proof.
With PLI's 55 per cent emphasis on fitness traits alongside a 45 per cent emphasis on production, it is little surprise that it is in fitness that O-Man shines. His -22 SCC Index reflects a big improvement over average, while daughters average +0.6 lactations for Lifespan, and show strong improvements in fertility with a Fertility Index of +3.1.
"This bull also typifies the modern Holstein type profile requested by the commercial dairy farmer, of cows that carry extra condition, and are solid rather than extreme type improvers as indicated by his Type Merit of +0.8," says Mr Winters.
Climbing into a well-earned second place is another well-known and respected second crop sire – Braedale Goldwyn – up 23 points to PLI £228. At +3.5 Type Merit he is also the highest type sire in the top 10.
Up into third place is the first O-Man son, Morningview Legend, whose solid all-round proof will find a wide market, while high fat producer Wizzard, now ranks fourth.
Top of the lifespan improvers is Laudan, now ranked fifth, and transmitting nearly a full lactation more lifespan to his daughters than average.
The first of the new entries comes in at number six, in the shape of Macomber O-Man Bogart. He ranks among the best daughter fertility improvers at FI +4.3, and with +0.2 Lifespan and good SCC, this solid all-rounder has a PLI of £208.
The next new entry - Lot-O-Rok Oman Jake - follows in seventh, again improving on all the important fitness traits as well as production.
Although he is a bull which has been around for many years, the Rudolph son Ramos makes his debut to the top 10, his extra daughters performing particularly well for fertility under UK conditions, reflected in his Fertility Index, up to a phenomenal +8.6, the highest of the top 50 bulls. It comes as no surprise that he combines this with good daughter lifespan scores.
Wa-Del Hayden maintains his top 10 position at £197 and is followed closely by our final new entry, and also the highest milk bull available – Tomlu Oman Dotson. Combining his impressive milk proof of +1129 kg with a solid Fertility Index and good SCC and lifespan, Dotson becomes a strong contender for farmers on a liquid milk contract.
The highest PLI bulls from UK progeny test programmes are Bilsrow Jock and Burlane Tennyson at £176 and £173 PLI respectively.
"The arrival of O-Man sons has been eagerly anticipated, and it hasn't disappointed," says Mr Winters. "This proof run marks the true beginning of a vital new era in Holstein breeding where fitness rather than extreme production or type dominates the scene."

Stability at Top of Other Breeds' Rankings


Ayrshires to Award Top Herd in Gold Cup


Atlantic Crossing for World Wide Sires Challenge Winners