Ayrshires to Award Top Herd in Gold Cup
2009-Apr-07
The Ayrshire Breed Society is awarding its breed cup to the highest placed Ayrshire herd in the 2009 NMR/RABDF Gold Cup competition.
NMR/RABDF Gold Cup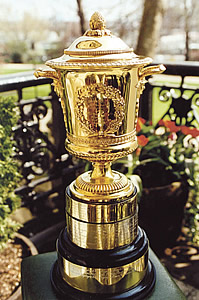 Noted as the industry's more prestigious award, with finalists identified for their all round approach to dairying, the Gold Cup is open to all milk recorded herds meeting a combination of herd size, cell count and genetic merit criteria.

"Around 1,000 herds have qualified for entry this year," says Gold Cup co-ordinator and RABDF Council member Frank Armitage. "Among these are a number of Ayrshire herds that we hope will enter the competition."

Entry forms, to be completed by mid April, will be considered by the judges and six or eight finalists will then be visited. The winner and runner up of the 2009 Gold Cup, and the winner of the Ayrshire breed cup, will be named at the Dairy Event and Livestock Show, Stoneleigh on September 16, 2009.

"We want to emphasise to all those who have qualified that it isn't the largest herds or those best known for showing or winning previous awards that get into the final stages of the Gold Cup," adds Mr Armitage. "We look at how the particular farm makes best use of its resources, the attention to detail shown and the commitment to progressing the herd and the business in the future."

Milk recording organisations and the joint organisers, RABDF and NMR, are available to help entrants complete their entry forms. All Gold Cup finalists will be presented with a certificate at the Dairy Event and Livestock Show.

Atlantic Crossing for World Wide Sires Challenge Winners


NMR Publishes Latest Dairy Production Results


Top Living Holstein Bull for Locomotion Gets High Classification Score