Over 75 Trophies and Big Prize Money at 200th Otley Show
2009-03-30
A total of 75 trophies and £12,500 in prize money, including £5,500 in livestock classes, are available to be won at this year's landmark 200th Otley Show, on Saturday, May 16 – the first major regional agricultural event of the 2009 season.
Texel sheep classes at Otley Show 2004.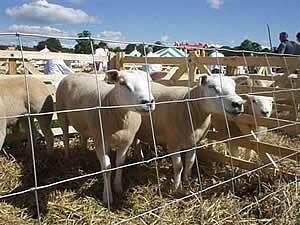 In the cattle classes, a strong dairy section is again promised, with the line-up covering Holstein Friesian, pedigree Jersey and Shorthorn milkers. There are 20 classes in total, including one for dairy pairs, culminating in a supreme dairy championship.

Beef animals will also be given an opportunity to shine in some 35 pedigree and non-pedigree classes.

Pedigree classes cover British Limousin, Aberdeen Angus, Dexter, Highland, Hereford and other pure breeds, with the non-pedigree section open to British Blue and other breeds, with standalone classes for butchers' animals. A supreme beef interbreed champion will emerge.

Special beef and dairy cattle judging classes for young farmers' clubs will again be staged.

From the robust sheep classes – more than 60 in total – overall supreme and best-fleeced champions will emerge.

Suffolk, Texel, Charollais, Beltex, Swaledale, Blue Faced Leicester, Mule, Dalesbred, Teeswater, Masham, Jacob, Wensleydale and any other pure breeds will all be catered for, while there are also butchers' prime lamb classes.

Horses are a highlight at Otley and this year will be no exception, with a near 50-strong line-up of in-hand, leading, riding, breeding and show jumping classes for all ages and standards – from ponies through to hunters, Shires and Irish Draught horses. Sidesaddle classes are again incorporated.

For the first time, the Shire classes will feature a qualifier for the 2009 Horse of the Year Show in Birmingham this October, supplemented by a one-off bicentenary Heavy Horse Turnout Challenge, by invitation only and with £2,500 in turnout and prize money.

Mountain, moorland and fell ponies – among them Dartmoor, Exmoor, Welsh, Shetland, Highland, Connemara, New Forest and Dales - will all be put through their paces. There's also a qualifier for the Ponies (UK) 2009 Summer Championship Show at the Newark & Notts Showground in August.

Livestock and equine breed societies are again supporting many of their own classes, along with a host of other regular annual local, regional and national sponsors who all contribute towards ensuring the successful continuance of Otley Show.

Around 1,000 exhibitors regularly submit up to 3,500 entries in the show classes, which also include sections for pygmy goats, pigeons, poultry and waterfowl, handicrafts, produce and floral art. Junior sections continue to be particularly well supported.

While numbers in last year's livestock classes were reduced due to Bluetongue movement restrictions, organisers are this year hoping for a record entry for the milestone bicentenary event.

The closing date for entries is April 16, with schedules and entry forms available from show secretary Janet Raw, at 15 Bridge Street, Otley, West Yorkshire, LS21 1BQ, tel: 01943 462541 or 07961 966952, e-mail janet.raw@otleyshow.org.uk or visit www.otleyshow.org.uk
Schedules and entry forms can also be downloaded from the site.

A display covering the 200-year history of Otley Show will be a centrepiece of the bicententary event, covering all aspects of farming and agriculture over the past two centuries, supported by a moving pageant depicting rural life.

Attractions include a jousting tournament by The Knights of the Damned, Yorkshire Military Marching Band, Otley Brass Band, Mountgrace Gun Dog Display, Ben Potter Birds of Prey, The Sheep Show - a live stage show about sheep breeds and wool, including a dancing sheep - National Vintage Engine Club, flyfishing and dry stone walling demonstrations and Badsworth and Bramham Moor Hunt.

There will also be a grand parade of champions, along with more than 100 trade stands and food outlets, plus up to 50 craft exhibitors.

On average, Otley Show attracts 15,000 visitors and remains a highlight in the town's calendar, supporting the region's farming and agricultural communities, as well as providing a major boost to the local economy.

Major sponsors to date include Waitrose supermarket, stationery company Wm Sinclair & Sons, Stephen H Smith Garden & Leisure, B&TS Builders Merchants, accountants BFE Brays, all based locally, I'anson Bros, Masham and Rosettes Direct, Oswaldtwistle.

Northumberland County Show 2009


Historic Display Set to be Centrepiece of 200th Otley Show


Otley Show Bicentenary Nostalgia Call a Huge Success