Programme Helps Cumbria's Farmers Build a Sustainable Future
27/02/09
The launch of a new scheme will inject cash into projects to improve the efficiency of farm businesses in Cumbria - and offer capital grants to farmers.
Chris McDonald, Cumberland Building Society assistant general manager, left, hands over a cheque for £10,000 to Cumbria Farmer Network company manager Paul Harper to boost funds for the new Livestock Programme in Cumbria. The Cumberland Building Society has pledged its support of £10,000 for each of the first two years of the programme. Mr McDonald said the building society was keen to support such a programme which involved education within business, particularly in the farming industry with its implications for the overall economy of Cumbria.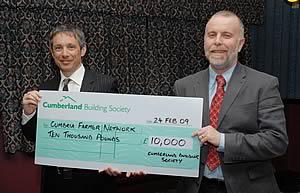 The £18 million Northwest Livestock Programme will focus on farm competitiveness, animal health and welfare and nutrient management through six monitor farms in Cumbria, Lancashire and Cheshire as well as through farmer groups across the region, individual business advice and capital grants.
The Northwest Regional Development Agency (NWDA) is managing the four year programme which was outlined to farmers in Cumbria at a series of meetings* across the county this week.
Cumbria Farmer Network is delivering the programme of monitor farms, demonstrations and group work in Cumbria with Myerscough College, EBLEX, DairyCo and English Food and Farming Partnerships. Technical advice will be provided by SAC/Cumbria Rural Enterprise Agency (animal health and welfare planning) and Promar (nutrient management/resource efficiency).
"The NWDA want the programme of group work to be farmer-led to help farms to become more sustainable which mirrors our own philosophy," said Cumbria Farmer Network's Paul Harper.
"Farm businesses are going to have to face the issues of managing inputs more effectively, whether it's energy or nutrients, as well as addressing animal health and welfare and disease control arrangements as pre-emptive management."
Launching the new livestock programme, from left to right, Phillip Ward and Chris McDonald, both from the Cumberland Building Society which has given £10,000 to the programme for each of the first two years, David Hall, EFFP (English Food and Farming Partnership), Harry Martin, Cumbria Farm Link, Paul Harper Cumbria Farmer Network , Nancy Tweddell, North West Development Agency, Will Rawling Cumbria Farmer Network and Stuart Goodison DairyCo.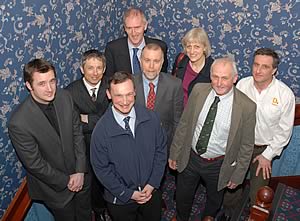 David Hunter, Head of Rural Development at the NWDA, said: "The launch of this programme, as part of the Rural Development Programme for England (RDPE), comes at a crucial time for farming businesses, as the current economic climate creates new challenges for the rural economy.
"Through the Northwest Livestock Programme, farm businesses will be able to access expertise advice from specially trained advisors, with the aim of improving efficiency and profitability to encourage their future growth."
The programme will help farmers improve business performance and sustainability through farmer support and good practice demonstrations as well as capital grants.
As part of the programme, six monitor farms – two of them in Cumbria - will be identified and over the four year project and by modifying management practices farmers will be shown how financial and environmental gains can be made.
While the farms will be fully costed they will not have to open their books and the farmer will have the final say over any management changes that are discussed and agreed with an interested group of farmers – a similar programme has been operating successfully in Scotland with the SAC.
Farmer groups will also have access to specialists and technical information and there will be on-farm events to demonstrate best practice and new technologies.
Livestock farmers can then apply for performance grants from a separate £9.75million fund to help turn ideas into practice.
This is expected to be at a rate of up to 40 per cent with a limit of £8,000 per grant and a maximum award of £12,000 per farming business.
The programme is within Northwest's Rural Development Programme for England (RDPE) which is funded with voluntary modulation money through the European Union.
Cumbria Farmer Network's Paul Harper addresses the packed meeting attended by as many as 130 people to launch the Northwest Livestock Programme in Carlisle.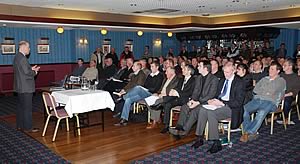 Cumbria Farmer Network's delivery of the programme in Cumbria has also been supported financially by The Cumberland Building Society for its first two years.
A meeting is scheduled for mid March to explain in more detail the working of the monitor farms. Anyone who is interested who could not attend the meeting is encouraged to contact the Network office to get an invitation.
Farmers who want more information on the programme should contact the following:
Monitor farms or support for local groups – Kate, Ruth or Susan at the Cumbria Farmer Network 01768 868615
Advice on animal health & welfare –SAC Consulting 01668 283 363
Advice on nutrient management & resource efficiency – Sandra Callwood of Promar on 0870 870 7380 or livestocknw@promar-international.com
Details about grant aid are available from the NWDA's RDPE team in Penrith on 01768 861306
Network members will be given a full update in a special edition of the newsletter.


NFU Scotland Elects Leadership Team


TFA Meets North Yorkshire to Discuss County Farms


Scottish Farmers Discuss a New Contract with Society