NFU Scotland Elects Leadership Team
23/02/09
At the recent NFU Scotland Council meeting in Aviemore, Jim McLaren was re-elected unopposed as the President of NFU Scotland, having already served one term in this two-year post.
Jim McLaren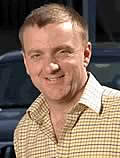 Serving alongside Jim will be Vice-presidents, Allan Bowie and Nigel Miller, elected following a vote at the meeting. Both Vice-presidents will serve a term of one year.
The biographical details are as follows:
Jim McLaren: Age 41 and married with two sons, two daughters and two stepdaughters. Jim is a mixed arable and livestock farmer. His arable unit, growing winter wheat, winter oilseed rape, spring barley and land let out for potatoes, extends to 1000 acres in Perthshire. The business is a mix of full tenancy, limited partnership, owner-occupier and contract farming. He has other interests outside of mainstream farming, including a share in a retail dairy business. Jim served on the Milk Committee since 1999, holding the position of Chairman in 2003. He was also Chairman of Crieff Branch. Jim served as NFU Scotland Vice-President for the year 2006/2007 and in February 2007, Jim was elected President of NFU Scotland.
Allan Bowie: Age 48 and married with 2 sons and a daughter. Allan farms in partnership with his brother in the North East Fife and Kinross area. The arable unit majors on growing wheat, barley, potatoes and vegetables and extends to about 1100 acres of which 50 percent is owner occupied and the balance is short limited duration Tenancy/contract farming agreements. In addition the business, he buys and finishes 110 suckled calves each year. He was chairman of the North East Fife branch and is currently in his second year as chairman for East Central region.
Nigel Miller



Nigel Miller: Age 54 with four children. Nigel farms 1200 acres in partnership with two of his sons in the Scottish Borders. The upland hill farm supports 170 cows and 800 breeding ewes. Traditional beef breeds are the basis of the beef enterprise. Aberdeen Angus cross steers are sold through the auction ring with heifers being marketed privately for bulling. The sheep flock is founded on Lairg type Cheviots. Nigel, a former vet, started his NFU Scotland career as Chairman of the West Berwick Branch and is a past Chairman of the Livestock Committee. Nigel has been Vice-President since March 2007.

TFA Meets North Yorkshire to Discuss County Farms


Scottish Farmers Discuss a New Contract with Society


Union Launches New Rural Development Options