Survey Confirms Massive UK-Wide Rodent Pest Surge
10/02/09
A massive surge in rat and mouse problems across the United Kingdom has been revealed in the latest National Pest Technician's Association (NPTA) benchmark annual rodent survey.
Rats cause damage to buildings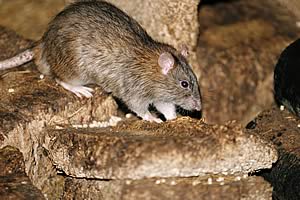 Including full treatment data from no less than 80% of the UK local authorities with pest control responsibilities, the 2007/8 survey report confirms the dramatic increase in recent problems recorded in the recently published 2008 Sorex national farm rat study. The latest survey identifies well over half a million complaints leading to rodent treatments in the year – by far the highest in the Association's nine years of surveying.

"Brown rats continue to be our most important national rodent pest," reports NPTA survey co-ordinator, Barrie Sheard. "They were responsible for nearly three quarters of all the local authority treatments we recorded in 2007/8.

"In total, the councils reported over 378,000 rat treatments. That's fully 44% up on the previous year. At the same time, mouse treatments – at over 147,000 – were 39% higher than 2006/7, bringing overall treatment levels to well above those seen in our previous record year of 2005/6.

"On a like-for-like basis – to account for the welcome increase in local authorities responding to our latest survey – annual rat treatments have increased by more than 15% and mouse treatments by nearly 6% over 2006/7.
This is one of the biggest rises we've ever recorded since our annual surveying began in 1998/9," he stresses. "And it takes place despite the growing number of councils either charging for rodent control services themselves or referring residents to commercial pest control businesses – both of which we know markedly reduce the number of complaints leading to treatments."

The NPTA traces the 2007/8 surge in rodent problems across the country directly back to a failure to get on top of populations the previous year. It points out that the exceptionally mild winter of 2006/7 meant rats, in particular, were far less evident than usual in and around buildings. This led to a marked decline in both complaints and treatments, leaving relatively high populations to profit from excellent early summer breeding conditions and cause problems to surge with the onset of colder autumn weather in 2007.

"This clearly highlights the danger of assuming rats and mice aren't there just because they aren't that obvious," insists Barrie Sheard. "It also reinforces our major concerns that the progressive introduction of rodent control charges and the parallel shift away from area to individual premises treatment is letting these serious rodent pests off the hook, increasing public health risk substantially.

"Not least because rodents in the UK have recently tested positive for Ljungam virus, first isolated in Northern Sweden several years ago and implicated in a number of human health problems, including diabetes, still births and sudden infant deaths.

"We also see the increasing accessibility of attractive food sources through over-feeding of garden birds, littering and fly-tipping, poorly secured household waste and inadequately sealed compost bins as major factors in encouraging rodent populations to build and make controlling them increasingly less effective," he adds. "Especially so as more and more people are driven to undertake their own DIY control with little, if any, appreciation of best practice or the understanding of rat and mouse behaviour that underpins it."

Current NPTA feedback from both public and private sector pest controllers and parallel Sorex farm and urban rodent control studies suggest the 2007/8 population surge has proved too much for many control regimes to cope with. As a result, large numbers of mature rats and mice survived into last summer to profit from an abundance of external food in the mild autumn and cause further problems with the onset of cold weather.

As well as continual monitoring for the tell-tale signs of infestations and immediate action as soon as they become evident, NPTA and Sorex both urge all concerned to employ the highest possible standards of practice to ensure rodent control is as effective and safe as it can be.
"Unless local authorities, utilities, farm and other businesses can find new ways of working together and with householders to combat rats and mice through well-planned and co-ordinated treatment, we can only see our national rodent problem becoming progressively worse in the years ahead," insists Martina Flynn of Sorex.

"This is even more essential as recessionary pressures bite and growing financial pressures on all concerned reduce the incentive for thorough pest control services to be used as early or effectively enough as they need to be to stop rodent problems escalating even further."

Sorex Annual Study Shows Growing Farm Rat Problems


Diligent Hygiene Essential to Minimise Lambing Losses


Changes to Scrapie Monitoring Scheme