Sorex Annual Study Shows Growing Farm Rat Problems
21/01/09
For the second year in a row large numbers of farmers across the country have experienced major rat problems over the past 12 months, with noticeably bigger and more frequent infestations and longer baiting periods posing particular challenges.
This is the key finding of latest annual farm rat control study conducted by behaviour-led pest control experts, Sorex. Involving a broad cross-section of livestock and arable holdings farming over 15,000 acres from the north of Scotland to the West Country, the November study showed no reduction in the upsurge in rat problems highlighted in last winter's inaugural study.
Indeed, with nearly two thirds of farms having had to bait in at least six of previous 12 months and over 80% undertaking three or more cycles of baiting in this time, there is every indication that the worryingly high rat populations of 2007/8 are continuing to build.

"A good 75% of those involved in our study report greater rat problems than last year," reveals co-ordinator, Martina Flynn of Sorex. "And, of these, nearly half rate their problems as significantly greater – identifying bigger infestations, more frequent infestations and longer baiting periods as their key issues (Figure 1).

"While the autumn and winter months continue to see the most rat baiting, the fact that such a large proportion of farms are also now having to control rats in the spring and summer emphasises the scale of the challenge these days (Figure 2).
"So much so that almost 20% of the farms are baiting every month of the year, with 40% undertaking six or more full baiting cycles a year. What's more, average annual bait use currently stands at more than 40 kg/unit or well over 0.1 kg/acre," she reports.

The extent to which rats are causing greater problems on farms across the country is also illustrated by the clear trend towards regular baiting and better baiting practice revealed in this year's study.

Whereas less than half of farms said they were baiting regularly at key times of the year rather than only when infestations become obvious in 2007, nearly two thirds report doing so in the past year. Equally, the proportion of units siting baiting points following a survey, using more than enough baiting points, permanently siting empty baiting containers and rodent proofing alternative food sources have all risen noticeably.

"Last winter's explosion in rat populations clearly proved too much for many farm baiting regimes to cope with," explains Martina Flynn. "As a result, large numbers of mature rats survived into the spring, leaving a legacy of far higher levels of breeding over the summer. Although wet, a relatively warm early autumn and an abundance of food in the field – courtesy of one of the most difficult harvests in recent memory – meant rats have once again stayed outside later than normal this season. So we could easily be in danger of letting them off the hook once again by failing to maintain adequate early winter control just because populations haven't been that obvious.

"Under these circumstances, it's really good to see so many farms taking active steps to combat the rat challenge through improved baiting practices," she comments. "Particularly encouraging is their growing recognition of the need to use sufficient baiting points, site them well and bait regularly at key times of the year like the onset of cold weather rather than merely once infestations become apparent.

"With wheat-based baits used on more than three quarters of farms and our high-tech foraging grain bait, Neosorexa Gold employed by more than half, farmers are also clearly appreciating the value of the latest rodenticide technology in maximising bait acceptance and uptake.

"As well as the progress already made, our study highlights that large numbers of farms are planning further improvements in their control practices over the coming winter. Most importantly, these include more regular routine baiting, better topping-up of bait and more effective siting of baiting points.

"Interestingly, only a minority of farms are considering changing their rodenticide bait, notes Martina Flynn. "This shows they understand that, with the technology now available, employing the best behaviour-led practices is the key to improving rat control these days, rather than the traditional approach of merely trying a different bait."
Figure 1: Key Rat Control Challenges 2007/8

Source: Sorex Annual Farm Rat Control Study 2008
Figure 2: Year Round Farm Rat Baiting Pattern 2007/8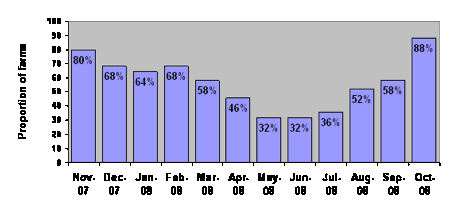 Source: Sorex Annual Farm Rat Control Study 2008

Survey Confirms Massive UK-Wide Rodent Pest Surge


Changes to Scrapie Monitoring Scheme


SABRE Project Makes Major Livestock Breeding Progress