Winners of the Great Yorkshire Cookery Competition Announced
03/02/09
Mouth-watering dishes, imaginative recipes and a flair with regional food were the hallmarks of the winning entries for the Yorkshire Agricultural Society's Great Yorkshire Cookery Competition 2009.
Helen Rosillo, aged 18 of Harrogate winner of the Great Yorkshire Cookery Competition 2009 (Amateur Chef category) with her dish "A Yorkshire Trio"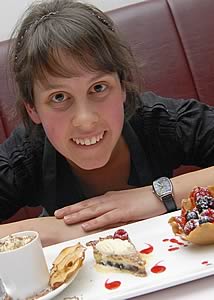 The competition, which aims to find the best junior, amateur and professional chefs, attracted entries from across the region and culminated in a nail biting cook off to decide the winners.

The finalists all had to create a signature dish which was nutritious, locally sourced and could be made for under £10. The cook offs were held at the Fourth Floor Restaurant, Harvey Nichols, Leeds and, for the juniors, at Bettys Cookery School in Harrogate.

The winners were:
Daniel Pawson of Harrogate, winner of the Junior Chef Category (Seared Venison with a Warm Oyster Mushroom and Crispy Bacon salad and Cranberry Syrup)
Helen Rosillo of Harrogate, winner of the Amateur Chef Category (A Sweet Trio of Yorkshire)
Tim Bilton of The Butchers Arms, Hepworth, near Holmfirth winner of the Profession Chef Category. (Pan Roast Loin of Venison served with little Venison Cottage Pie, Roast Winter Vegetables and Pontefract Cake Jus).
Tim's prize included a cheque for £100, in the Amateur category, as part of her prize Helen will spend a day cooking at the Michelin-starred Leeds restaurant Brasserie Blanc alongside one of Raymond Blanc's trained chefs and Daniel will gain an insight into creating some of the fabulous Bettys' recipes during a day spent at the Bettys Cookery School.

The panel of judges all commented on the quality of the entries and the innovative use of ingredients. Richard Allen, a member of the judging panel said: "I was very impressed both with the standard of the dishes they produced, and also with the way they coped under pressure - that is a skill in its own right. In addition, their commitment to using regional food was very impressive." Joining Richard on the panel was the acclaimed TV cook and the competition co-ordinator, Annie Stirk, Deborah Goodall of the Yorkshire Agricultural Society and Richard Jones of Bettys Cookery School.

The competition is organised by the Yorkshire Agricultural Society in association with Yorkshire Life, Bettys Cookery School and Harvey Nichols.

Profession Chef Category Winner: Tim Bilton
Tim is the chef/proprietor of The Butchers Arms, Hepworth near Holmfirth. He is a former teacher at Thomas Danby College, Leeds, a senior co-ordinator for hospitality at Huddersfield College and a former head chef at Bibi's Italianissimo, Leeds.

Tim sourced the venison from his dish from Richard and Jenny Elmhirst of Round Green Farm, Worsbrough, Barnsley. He says venison is one of th4 world's healthiest meats with farmed venison being more consistent, less gamey, leaner and moister than its wild counterpart.

Amateur Chef Category Winner: Helen Rosillo
Helen is a pupil at Harrogate Grammar School where she is studying for her A'levels, and she works part time as a pastry chef at Rudding Park Hotel, Harrogate. She was the winner of the Junior Chef category of the 2007 Great Yorkshire Cookery Competition. Helen lives in Harrogate.

Her dish - "A Sweet Trio of Yorkshire" - comprised Yorkshire Curd Tart, Yorkshire Chocolate Cuppa and Yorkshire Fruit Hamper.

Junior Chef Category Winner: Daniel Pawson
Daniel is aged 14 and is also a pupil at Harrogate Grammar School. He has been passionate about cooking since he was 8 years old when he started out by making a full English breakfast for his family. Daniel is studying at Thomas Danby College, in the Junior Chef Academy. He lives in Harrogate.

Otley Show Bicentenary Nostalgia Call a Huge Success


Oxford Farming Conference 2009


FAO International Year of Natural Fibres 2009