Profiting From Animal Welfare: SAC At The Oxford Farming Conference 26/01/09
A paper suggesting a different approach to animal welfare was greeted with interest at the Oxford Farming Conference. Prepared by Dr. Alistair Stott and Professor Alistair Lawrence, who addressed the conference, it argued there was a strong case for concentrating on the benefits good animal welfare offers the farmer.
Professor Alistair Lawrence at the Oxford Farming Conference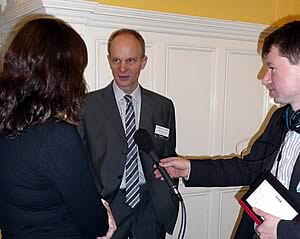 Held early in the New Year, the two-day Oxford Farming Conference attracts a large audience and generates a lot of press comment. This year, Cabinet Secretary Richard Lochhead joined Agriculture Minister Hillary Benn to give the keynote addresses from a stage erected amid the marble of the University Examination Schools. His description of the Scottish Government's approach to agriculture and the countryside highlighted some interesting contrasts with the DEFRA model.
Speaking on the second day, in a session entitled "Profit from Consumer Choice: Biotechnology and Animal Welfare" Alistair Lawrence explained that, while the animal welfare debate has been developing in the UK since the 18th century, for much of that time the emphasis has been on the use of legislation to protect animals. More recently there has been a focus on using market-led approaches to improve animal welfare, for example, stimulating demand for high welfare animal products. He asked if it was not time to consider another approach and, in effect, ask how much animal welfare can farmers' afford to deliver?
His answer was more than some might think. Using a range of examples, including from SAC's own research, he illustrated that improving animal welfare need not penalise business returns and indeed may increase profits. He pointed to the recognition that narrowly focussing on selection for increased milk yield had led to problems of reduced cow fertility and lameness. Changing the choice of bulls has led to cows that today give less milk but live healthier, longer lives and so are more profitable. Likewise, selecting ewes according to the viabilty and vigour of the lambs they produce, rather than just going for numbers, has been shown to reduce labour at lambing with more lambs surviving to sell at the sales.
Professor Lawrence explained that finding and using these win-win solutions that had a greater focus on delivering improved animal welfare within a competitive livestock industry would allow farmers to gain the initiative in the animal welfare debate. To realise this requires interdisciplinary research combining economic analysis with high quality scientific information on the animals' welfare and effective knowledge exchange that positively influences farmer behaviour.
The messages went down well with the audience and the press, including BBC Radio 4's Farming Today.

FAO International Year of Natural Fibres 2009


NSA North Sheep 2009 Announces Novartis as Major Sponsor


Outlook 2009 - Making Sense of Volatile Markets