The Thrunton Approach to Successful Charolais Cattle Breeding
16/01/09
Genetic selection is key to breeding pedigree cattle, however introducing best management and nutrition are equally important to the Campbell family who will explain their three pronged approach to success when they host a discussion day at Thrunton, Alnwick on Friday 30 January supported by the British Charolais Cattle Society, Keenan Rumans and the SAC Premium Health Scheme.
From left, Keenan Rumans nutritionist, Seth Wareing with Ian Campbell and his sons, Bruce and Andrew.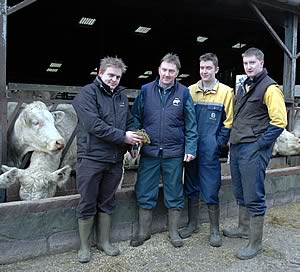 Charolais responds to market requirements better than other beef breed in a long term beef enterprise. That's a fact which is just as relevant today as it was almost 40 years ago when the Campbells began to discover the breed for themselves and one which led them to establish the Thrunton pedigree herd of Charolais cattle, now the north east's largest at 380 head and the most renowned.
"Our father, Colin was among the first in the area to introduce the Charolais as a terminal sire in the 1970's. We used the Charolais bull across our suckler herd and immediately found ourselves selling calves that made more money in the ring; they reached heavier weights sooner and had that quality conformation which buyers were looking for," Ian explains.
"As demand for Charolais took off, we started to breed a few pedigree cattle and they eventually replaced the entire commercial suckler herd. The family, Ian and his brother John, parents Colin and Phyllis, and nowadays helped by Ian's sons, Andrew and Bruce, have been in the limelight on countless occasions at society sales both finding themselves within the day's top prices and taking home the silverware, including the coveted Perth supreme championship on five occasions.
"Over the years, we've focused on the same set of simple objectives, to breed high quality bulls for the commercial sector that leave progeny which are easy to calve, grow as quickly as possible, have excellent conformation and now they're also backed up by good Estimated Breeding Values," he explained. "The vast majority of Thrunton bred bulls continue to sell at the farmgate to repeat commercial buyers from throughout the region. These farmers keep coming back simply because of the rewards they get in the ring for their suckled calves, in particular for the higher value commanded by the Charolais cross heifer calves."
Genetics apart, it's Thrunton's feeding and management regime which Ian believes makes a major contribution to the herd's success. "Pedigree cattle are perceived to live a charmed life, however we manage our split autumn spring calving herd in very commercial, natural conditions and we believe they respond all the better. For example, all bulls destined for breeding spend most of their time at grass, while the majority of the cows are outwintered."
Thrunton's nutritionist, Seth Wareing of Keenan Rumans explains: "This is an exemplary pedigree herd run on commercial lines which ensures costs are contained without compromising quality.
Ian pays huge attention to detail, accompanied by targeted nutrition which is helping to unlock the cattle's real genetic potential and get him to where he is today with real success.
"Like any commercial suckler herd, Thrunton is focused on ease of calving and maintaining fertility to achieve one calf per cow per year, and it is realising its goals simply by managing body condition to score between 2.5 and 3," he says. "That boils down to a balancing act between the demands of the cow, homegrown forage availability and introducing straw to the diet chopped precisely to the animal's muzzle width."
Both winter housed cows and bulls destined for breeding are fed a total mix ration (TMR) fed from a Keenan Klassic 140 and comprising grass silage, homegrown cereals, chopped straw sourced from the family's two tenanted farms totalling 1,400 acres, along with bought in protein. "This diet comprises high energy levels plus adequate protein and has been specifically formulated to fully exploit the Charolais' genetic potential," Seth explains.
With the majority of the herd calving in autumn, careful nutrition management is required during the spring and summer grazing period, while immediately after calving introducing the TMR provides extra energy to ensure sufficient milk, and maximise fertility.
All calves born at Thrunton are introduced to creep feed from one month of age in order to promote early rumen function, maximise feed conversion efficiency while it is at its greatest, and ultimately daily liveweight gain. Autumn born bulls are weaned at eight months of age, and turned out to grass and concentrate at the end of April for five months; target weight is in the order of 1.5kg to 2kg per day up to 500 days; on average 85% of the bull crop is sold on for breeding purposes, while the remainder are finished.
The replacement heifers are managed on similar commercial lines, while cull cows are fed the same TMR on an ad lib basis in order to reduce time to finishing and maximise weight gain.
Ian Campbell is also committed to herd health. For the last 20 years the Thrunton herd has been closed, and it is a member of the SAC Premium Health Scheme. He adds: "As we enter a potential new era where we're being encouraged to produce more food, we are confident that continuing to connect genetics, feed and management will enable us to offer high genetic merit bulls that leave Thrunton in good working condition to deliver high performance calves which leave a healthy margin for the suckler man as well as the finisher."

Brisk Trade for Limousin Females at Ballymena


Pedigree Limousin Sales Go Through £5 Million Mark


Accurate Feed and Medicine Records Could save Billions