New Case Puma CVX Features Continuously Variable Transmission
07/11/08
The new PUMA CVX range extends Case IH's renowned Puma tractor range with the introduction of two new models featuring continuously variable transmissions that offer new levels of power and productivity while reducing operating cost.
Case Puma 225 CVX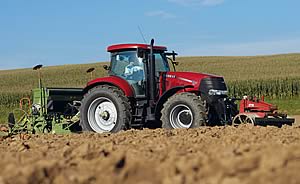 Comprising the PUMA 210 CVX and PUMA 225 CVX, the new range offers 212hp to 224hp, with a maximum power of up 251hp thanks to Case IH's engine power management system.
Case IH has led the industry in CVT transmission design and tractor technology for the past 15 years with the development of the CVX tractor range. Designed and manufactured at the Case IH's European headquarters in St. Valentin, Austria, the PUMA CVX is built on this knowledge and expertise. Fans of the current, smaller capacity range of CVX tractors will be pleased to see that the Puma CVX retains class-leading features such as, Active Stop, Headland Management Control and the bar axle as well as options such as reversible fan and exhaust brake, which enhance productivity and increase efficiency.
Case IH Puma CVX

Model
Rated Power(Hp)
Max. Power(Hp)
Max Torque(Nm)
Rear Linkage Capacity(Kg)
Hydraulic Flow(Litres per min)

210

212

242

984

10460

150

225

224

251

1025

10460

150
New Multicontroller Armrest
The PUMA CVX benefits from a new Multicontroller, the ergonomic armrest control, which incorporates proven right hand shuttle and fast raise / lower linkage features. Additional features, such as the Intuitive Control Panel (ICP), the Fuel Saver (FS) engine performance management system and the AFS PRO 300 touch screen (optional), which incorporates ISO Bus, further enhances tractor performance and efficiency.
Greater Productivity and Efficiency
The PUMA CVX offers up to 14% more performance from the engine in PTO and transport operations, and up to 14% increase in rear linkage capacity in like-for-like comparisons with competitors' models.
The transmission is designed to maximise efficiency and reduce fuel consumption. A 50kph transport speed is now achieved at reduced engine speed, a fuel-sipping 1550 rpm. The increased efficiency is 9% better than the next best competitor. The PTO drive line has been designed to maximise productivity and efficiency. A 1000rpm PTO speed is achieved in line with the maximum power of the engine at 1900rpm, increasing productivity by up to 8% and increasing fuel efficiency by up to 6%.
At 600 hours, the PUMA CVX boasts the longest engine service interval in the business, keeping the PUMA CVX working 20% longer than the next best competitor.
Automatic Productivity Management (APM) monitors the operators driving strategy and adjusts engine speed and transmission ratio to achieve the best balance between performance and fuel economy. This has benefited customers for many thousands of hours by reducing fuel consumption and enhancing operator comfort.
Greater comfort and intuitive control
The spacious Surround-VisionTM Control Centre on the PUMA CVX offers operators unrivalled comfort and visibility. The Surround-Vision cab benefits from 5.87m2 of glass area, a low noise level of 70 dB(A) and the increased functionality of the new Multicontroller, which ensures the tractor's controls fall easily to hand, making the PUMA CVX as intuitive to operate as it is comfortable to drive.
Instrumentation is located on the right hand 'A' Post display in line with Magnum and Steiger products and allows operators to monitor machine performance at eye level. Optional features of Cab Suspension, Low Frequency seat and Climate Control are also available.
To further enhance operator comfort Active Front Axle Suspension (AFAS) is standard on both models. The system monitors the rate of acceleration of the front of the PUMA CVX then adjusts the pressure within the front axle suspension system in milliseconds to maximise operator comfort and control.

CASE IH at EIMA 2008


New GB Premises for McCormick, Landini and Valpadana


Golden Key For a John Deere XUV Gator