New GB Premises for McCormick, Landini and Valpadana
03/11/08
The ARGO Group is making a major investment in its British operations by preparing to move the business distributing McCormick, Landini and Valpadana tractors into new purpose-built premises early next year.
An impression of how the ARGO Group's new premises for the McCormick, Landini and Valpadana distribution business will look once it is occupied next year.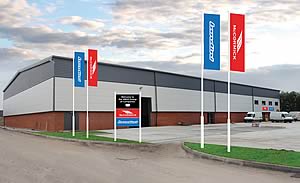 The £2 million investment will provide tractor preparation workshops, a training school, parts storage facilities and administration offices. Building work is well underway on the 1.6-acre site at Harworth, about 10 miles south of Doncaster.

"This is an important final step in the transition of the McCormick business, and its sister operation distributing Landini and Valpadana products, from a manufacturing operation to a commercial branch of the parent group," explains Ray Spinks, general manager. "The new premises will provide all the facilities we need to operate effectively as a business focussed entirely on our British dealers and their customers."

The new premises will provide an outdoor storage area and 22,000sq ft of covered space, housing offices, workshops, parts storage and training facilities. Its location will ensure continuity of staff and good road communications.

"We wanted to retain as many as possible of our experienced staff and that meant being close to Doncaster," says Mr Spinks. "At Harworth, we also have the advantage of being virtually alongside the A1, with easy access to the motorway network via the M1 and M18 for efficient distribution of tractors and parts to dealers throughout the country."

The advantage of acquiring a new building, rather than occupying an existing structure, is that the interior layout can be perfected for the different activities undertaken there.

"It also demonstrates the ARGO Group management's commitment to our high-profile presence in Britain and confidence in the future performance of McCormick, Landini and Valpadana products in the market," says Ray Spinks.

Golden Key For a John Deere XUV Gator


New Dealership Lands Valuable McCormick Tractor Franchise


Landini Dealers Enjoy a Day at the Races