Golden Key For a John Deere XUV Gator
23/10/08
John Deere's new, award winning XUV Gator utility vehicle is available free for a year – if you have the right key.
John Deere XUV Gator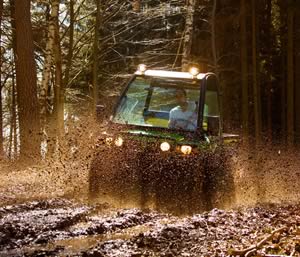 Over 22,000 boxes containing a golden key are being sent out to potential Gator customers in November. Recipients are invited to visit their local John Deere dealer for a test drive and try the key in either an XUV or HPX 4x4 Gator – and if the key fits, then the Gator is theirs to drive for one year, free of charge (not including fuel, servicing or insurance).

The offer is open to anyone in the UK and Ireland, aged 18 and over. If you haven't received a golden key in the post by the end of the first week in November, a key can be requested online. This special promotion runs until 19 December 2008.

The 24hp XUV Gator is the most powerful and quickest accelerating utility vehicle on the market, with the fastest top speed at 50kph (30mph). All round independent suspension and true four-wheel drive with front and rear differential locks make this the strongest performing vehicle in its class.

The XUV made its official public debut at the 2008 Royal Show at Stoneleigh Park, Warwickshire, where it won a Farmers Guardian New Equipment Award. It also won two major product test awards this year in the USA. The XUV was ranked highest in the Farm Industry News Utility Vehicle Rodeo, a two-day product testing event comparing utility vehicles from nine different companies; and Side X Side Action magazine also named the XUV its Utility Vehicle of the Year during the 2008 Side X Side Shoot-Out, another comprehensive two-day test in which John Deere went up against 10 different utility vehicles from eight other manufacturers.

Two New Smaller Claas Jaguars


New Dealership Lands Valuable McCormick Tractor Franchise


Landini Dealers Enjoy a Day at the Races