28/11/08
Specialist feed and mineral bucket supplement manufacturer Rumenco has launched a new 100kg SUPALyx tub as it rationalises the weight of products in its range to help merchant warehouse staff and farmers avoid the risk of musculo-skeletal injuries.
The new 100kg SUPAlyx tub
– suitable for mechanical handling only.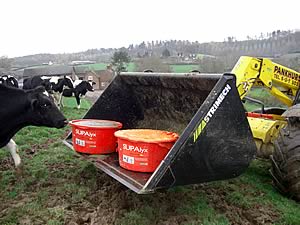 The new 100kg mechanical-handling only product replaces the 35kg bucket, which is being withdrawn in accordance with an agreement reached between the Agricultural Industries Confederation (AIC) and Health & Safety Executive (HSE) to eliminate intermediate weight feed products. The popular 22.5kg SUPAlyx bucket remains available in a newly designed container, but will carry appropriate user handling warnings.

"Self-reported work-related injury surveys show that the prevalence rates for musculo-skeletal disorders (MSDs) are significantly higher in agriculture than in other industries such as general manufacturing and construction," said Rumenco Product Development and Quality Manager Grant Hunter.

"The manual handling of feed products weighing 26-80kg is now deemed to be potentially high risk for MSDs, so as a manufacturer it is important that we take responsible action as soon as possible to remove from sale any products in this weight range."

The SUPAlyx range offers the merchant trade and ruminant livestock farmers a portfolio of cattle/sheep supplementary energy, protein and mineral supplement products formulated for specific nutritional requirements.

Volac launches Ewe2 Plus


Kiotechagil Appoints New Distributors in Egypt, Indonesia and Vietnam


Fermented Yeast Releases Production Potential