28/11/08
Volac has launched a new labour saving feeder for rearing surplus lambs. Called the Ewe2 Plus, the system features a 50 litre bucket with the capacity to feed up to 40 lambs from teats fixed to the pen.
Ewe2 Plus - a new labour saving feeder for surplus lamb rearing.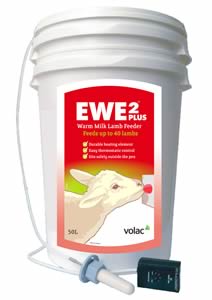 The Ewe2 Plus is designed to sit safely outside the lamb pen, allowing lambs access to ad-lib milk, little and often. The milk is maintained at a consistent temperature via a durable heating element with a thermostat built into the plug.

"The Ewe2 Plus builds on from the success of the Ewe2, which has a capacity to feed 20 lambs. The Ewe2 Plus is designed for producers with larger flocks; it is easy to operate and offers valuable time saving during one of the most labour intensive periods of the year," explains Volac's Sophie Gale. "What's more, it's a proven rearing system. The lambs fall in to a little and often routine, and it helps to eliminate gorging and other digestive upsets. In fact this system is the nearest to natural rearing."

For further information on the Ewe2 Plus contact Volac on freephone 0800 919808.

Kiotechagil Appoints New Distributors in Egypt, Indonesia and Vietnam


Fermented Yeast Releases Production Potential


New UK Agent Appointed for Innovative Feed Moisture Management Package