04/11/08
Bigger and better was the ultimate aim of the Borderway Agri Expo 2008 event, and wow, it did not disappoint, on Friday 31st October at Borderway, Carlisle, Cumbria.
Cattle Judging Ring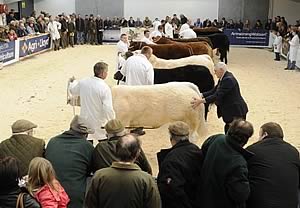 This North West premier all-industry agri event, which is designed to act as a shop window for the high standard of machinery and services within the industry in the area, also attracted 340 head of livestock to compete at the various shows held throughout the day.
Event Co-Ordinator and Operations Director, David Pritchard commented, 'We are absolutely astounded by the overwhelming support there has been for this event both with exhibitors, farmers and businesses. After last year's success with the first Agri Expo, we knew we had to work hard to make the 2008 event better again and I applaud all concerned in making this happen. There was a real buzz throughout the day.'
"With an estimated 7,500 visitors in attendance, it shows that despite the economic downturn globally, the UK farming community still remains at the forefront of the agricultural industry and we feel it important to promote our industry by staging this event and giving a positive outlook for the future of our farming industry as a whole."
"Our thanks go to the mainline sponsors for event, namely Norbrook, Carrs Billington, Farmers Guardian, LTS and Reeds Printers, along with H & H Insurance Brokers and H & H Bowe Limited. We are also thankful to all our class sponsors who supported us on the day."
Supreme Champion Commercial shown by Shaun Harryman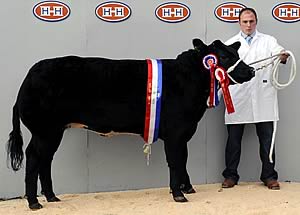 The livestock judging was a huge attraction on the day with the commercial cattle section being judged by recently retired Yorkshire farmer John Peckitt. Mr Peckitt awarded the supreme championship to the Harryman family of Keskadale, Keswick for their black Limousin cross heifer Black Beauty. This 15 month old homebred heifer is sired by the French bull Snoopy and out of a Limousin cross mother. Keith, Mark and Shaun Harryman run 100 pedigree cattle and buy in commercial cattle each season to calve down and sell through Carlisle every year.
The reserve championship award was won by husband and wife team Alister and Elizabeth Vance of Newton Stewart with their 14 month old Limousin sired heifer Devine Diva. This black heifer was purchased through Carlisle earlier in the season from Michael and Robert Scott of Thirlwall Castle. She is sired by Carnkirk Hilton and bred from a Limousin cross mother.
Supreme Champion Pair of Lambs shown by Andrew Baillie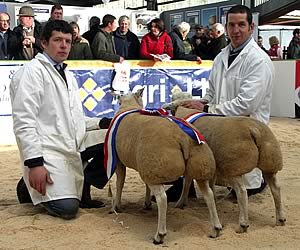 In the sheep section, officiating was Paul Barker of Colne, Lancashire. His supreme champion pairs of lambs came from the over 40.1kg Beltex class shown by Andrew Baillie of Callacrag, Carnwath and were also the overall winning Continental lambs.
The reserve supreme champion pairing came from the winning Young Farmers class shown by Hannah Brown of Bedale, N.Yorkshire. Her pair of Beltex sired lambs also picked up the reserve overall winning Continental sired lambs.
Another livestock show taking place was the Aberdeen Angus English National Calf Show which was judged by Northern Ireland breeder Victor Wallace. Lifting the overall and reserve position was local breeder Brian Ronan of the Jerusalem herd based at Appleby. The winning position was taken by Jerusalem Lord Jupiter a May 2007 born son of Blelack Blacksmith and out of a Dalrene Cruz bred daughter Netherton Lady Jane.
The reserve ticket went to the female champion Jerusalem Duchess a February 2008 born daughter to Jerusalem Lord Hermes.
The other Breed Calf Show on display was the Border British Blue Club calf show and was ably judged by club president Brian Wheatley of Penrith. The championship rosette was won by Kevin Watret of the Solway View herd based near Annan, Dumfriesshire.
Solway View Ceasar, a 12 month old bull sired by Baron du Bois Bauloye, is bred from the noted show cow Bringlee Sandy. This championship win is the ninth in succession for Kevin through this show season.
In reserve position was a 10 month old heifer shown by N & M Beardsley of Ashbourne, Derbyshire. Woodlands Diamante a daughter of Felicien de Courriaulx and bred out of their homebred cow Woodlands Wildthing.
The Young Farmers Stockjudging and Stockman of the Year competition which consisted in judging beef cattle, dairy cattle, lambs, poultry and fresh trout. Winning the open stockjudging section was John Ritson of Baggrayeat, runner up was Kenneth Hall of The Knells and in third position was William Ridley of Woodhall.
In the Young Farmers classes, the senior section was won by Karen Watson of Moorhouse Farm, runner up was Elaine Gill of Low Longthwaite and third prize was presented to Ross Pattinson of Low Longthwaite.
The junior class was won by Douglas Waugh of Kilnmoss, Bewcastle and he also was presented with the Stockman of the Year prize. Runner up in the junior class was Matthew Wallace of Gapshield and third position went to Andrew Benson of Gamswell Farm.
The winning team prize was presented to Wigton Young Farmers Club.
Another highlight of the days activities was the Expo Bucking Bronco Competition which was kindly sponsored by David Allen & Co. There was two classes of competition throughout the day, an open section and an inter-breed society competition. Winning the open section was Josh Richardson of Gill House. The winning breed society was the British Limousin Cattle Society, represented by Michael Norman, the second prize was presented to Grant Anderson representing the British Texel Society and in third position was Paul Stobbart representing the British Charolais Cattle Society.
Towards the end of the livestock judging a charity auction of select items took place and in the region of £7,500 was raised for the two nominated charities of the day, namely Breast Cancer Campaign and the Great North Air Ambulance. One of the highlights of the items up for auction was a Border Fine Arts British Blue Black bull donated by Enesco. This piece is one of only twelve in the country and after some serious bidding was finally sold to Davies Bros of Lan Farm, Llangadog, Dyfed.
Plans for next years event have already started and will be held on Friday 30th October 2009. Anyone wishing to be part of this exciting event please contact 01228 640924.

Walkabout GPs to Give Farmers Free Health Check


Countryside Live Attracts Record Crowds


Counting Down to Countryside Live 2008