22/10/08
With only a couple of days to go until the doors open on the sixth Countryside Live, cubs from the 7th Harrogate Almscliffe pack are all set to enjoy one of the region's best days out. Described as the "little sister of the Great Yorkshire Show", this year's event, takes place at the Great Yorkshire Showground, Harrogate on Saturday 25 and Sunday 26 October.
Cubs from the 7th Harrogate Almscliffe pack enjoy a tasty sneak preview of the Sausage Sizzle competition which will be held at Countryside Live this weekend.
Photo shows left to right: Alex Shaw, Ethan Kennell, chef Jonathan Cumbers of Kings Catering and Jack Kennell.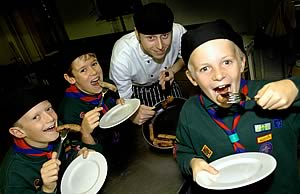 "Countryside Live is a great mix of fun activities and serious competitive classes," said Show Director, Bill Cowling. "It's an opportunity to see the best of the outside inside as 90% of the event is under cover. We've a fantastic cookery theatre, dozens of stands for early Christmas shopping, and of course lots of new features which everyone can enjoy."

Last year brownies attended the event for the first time, but this year they will be joined by a group of cubs. Both cubs and brownies will complete a number of tasks with the aim of gaining the new Countryside Live badge which has been created specially for the event. The youngsters will try their hand at activities such as bread and candle-making, a tree trail, rag rugging and identifying fruit and vegetables.

For the first time Countryside Live features a Sausage Sizzle - a competition to find the country's best sausage makers. There are three different classes – best traditional pork sausage, best speciality pork and best sausage made from meat other than pork and butchers and producers from across the region will be battling it out for the honours.

Other new attractions at Countryside Live include equine master classes with former international showjumping star Graham Fletcher, the Stray FM motor show, llamas and a pig section. There are also competitions for beef cattle, sheep, pigeons, poultry, honey, flowers, fruit and vegetables.

In addition there will be live cookery demonstrations from some of the region's finest chefs, and the return of the popular dog agility demonstrations.

And, of course, don't forget to browse the many trade stands and pick up some early Christmas presents. From fantastic fashions and local produce to stunning jewellery and hand-made crafts, there's sure to be plenty from which to choose.

Tickets for Countryside Live can be bought on the gate – they are £8 for adults, £7 for concessions, £18 for a Family Ticket and £2 for children. Countryside Live is open from 9am – 5pm on the Saturday and 9am – 4.30pm on the Sunday. Please note dogs, other than assistance dogs, are not allowed on the showground. Parking is free and extensive.

Further information is available from the website www.countrysidelive.co.uk or call 01423 541000

Countryside Live Attracts Record Crowds


Borderway Agri-Expo Builds on Success


Farm Stay Silver Jubilee Appeal to Former Members