World First at Borderway Black and White Sale
31/10/08
A world first is being offered at Borderway Black and White Sale, Carlisle (Saturday, 29th November) in the shape of first choice animals being selected from two leading UK herds.
The choice includes a Baxter daughter from the world famous Windy Knoll View Promise EX95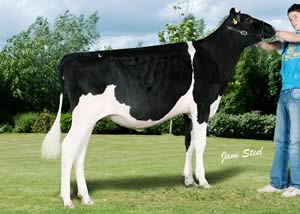 Europe's leading livestock marketing company Harrison and Hetherington this week announced the successful bidder on two separate lots will be able to select an animal of their choice from the renowned Overside Holstein Herd and Potterswalls Jersey Herd.
The last Holstein bidder will be able to choose any animal, irrespective of age, from the Overside Herd of Hugh Neilson, Strathaven, Scotland. This choice includes a Baxter daughter from the world famous Windy Knoll View Promise EX95 as well as a Mr Sam daughter descended from former Madison Champion Buggs Blackstar Bobbi Ex. There is also a first opportunity for European breeders to purchase a Lou daughter from Semex bullmother Pine Tree Finely Minnie VG.
Jersey enthusiasts will have the opportunity to select a first choice animal from the entire crop of 2008 heifer calves from the Fleming family's Potterswalls Herd based at County Down, Northern Ireland. This choice will also include an offer of a Lexington pregnancy due one month after the sale from a full-sister to the world famous Jersey show cow, Huronia Centurion Veronica Ex. The unprecedented dual opportunity being offered at the sale is expected to generate huge interest according to Borderway Head Pedigree Auctioneer Glyn Lucas.
"We're delighted that animals from the Overside and Potterswalls Herds are being offered at the Black and White Sale and this ensures a world first at a UK event. We have 70 lots in the sale that represent the finest Holstein and Jersey bloodlines in the world and once again expect a large crowd of cattle-breeding enthusiasts at Carlisle. The sale includes animals from all parts of the UK and this year, the sale has been boosted by six entries from Northern Ireland," he said.
This is the company's 22nd annual corporate event and the sale is preceded by a parade of all entered animals at 7pm, Friday 28th November. Borderway Sale Centre plays host to Europe's most prestigious annual dairy cattle sale and since its inception the event has generated in excess of 5million pounds of revenue for British dairy farmers. This year's entries are expected to attracted potential buyers from as far afield as Canada, US, Spain, Holland, Italy, Germany and France.
One of the headliner animals entered in the sale is a Goldwyn daughter of the 2007 UK National Holstein Show Grand Champion, Carhall Lyster Elizabeth EX. The top winning show animal was awarded 2007 All-Britain Junior Second Calved Cow status in July. Another entry expected to create immense interest is a Bolton granddaughter from the world famous Canadian show cow, Lylehaven Lila Z VG89.

Anyone interested in receiving a catalogue or requesting further information on the sale should contact Glyn Lucas on 01228 640 924 and visit www.livestock-sales.co.uk

Black & Whites Sell to 20,000 Guineas at Borderway


NMR Strenghtens Northern Ireland Team


NMR Reports Healthy Profits and Bright Outlook