Black & Whites Sell to 20,000 Guineas at Borderway
01/12/08
The Borderway Black and White Sale (Saturday 29th November 2008) hosted at the Borderway sale Centre, Carlisle, attracted the very best of UK pedigree dairy genetics and resulted in a top price of 20,000gns and an overall sale average of over £5,000.
Overside Lou Minnie - 20,000gns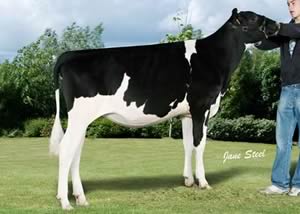 Braedale Goldwyn and Picston Shottle sired many of the stars that made this sale such an immense success and resulted in the highest Black and White sale average in the past 22 years. The sale included a world first opportunity to purchase a first choice animal from two entire herd offerings. The average for all lots sold including embryos, first choice females, Holstein and Jerseys was £5,029.
Top price was 20,000gns paid for the first choice of the entire Overside Holstein herd of Hugh Neilson, Strathaven, Lanarkshire. The last bidder was Alan and Christine Watson from the Lillyhall Herd, Cockermouth, Cumbria. The successful bidders have two weeks to make their considered choice from this world renowned herd.
Another herd with a first choice offering was the famous Potterswalls Jersey Herd, owned by the Fleming family. The successful bidders have the option of any female from the entire group of 2008 born calves. Winning the bidding on this exciting 5,000gns lot was Michael Booth, Co. Laois, Rep. of Ireland.
Denmire Shottle Marie 80, bred by the Dennison family, Ulverston, Cumbria, sold for 19,000gns to Colin Dent, Bridgend Holsteins, Penrith. The first three females in this pedigree are all Excellent 94 scored dams and each animal has produced over 100 tonnes of milk in their lifetime.
The famous Lylehaven Lila Z EX 91 had a beautiful grand daughter sired by Bolton from a VG 87 Two-Year-Old daughter of Picston Shottle. This June born calf attracted enormous interest from around the world and sold with numerous embryo and bull contracts. She was consigned by Andrew Davies, Abertegan Farm, Llanybydder and now joins the breeding establishment of Andrew Bunting, New Abbey, Dumfries, for 18,000gns.
Another headliner that attracted the attention of bidders was Nethervale Goldwyn Tabby. This animal was described by auctioneer Glyn Lucas as a heifer that "flirts with perfection". Her dam was the former All Canadian Veazland-R Bstar Tabby EX. This lot was consigned by W. Scott & Co, Netherhall Farm, Largs, and was purchased for 13,000gns by Jim Currie, Lanark, Drumchapel Estate, Brechin, and Usan Estate, Montrose.
All Red Holstein animals attracted huge interest with a top price of 11,000 paid for an Advent Red calf from Scientific Mahogany Red EX, a sister to the famous Madison show winner, Scientific Debutante Rae. This lot was consigned by Andrew Davies, Abertegan Farm, Llanybydder, and purchased by Willy Templeton, Syke.
Carhall Goldwyn Beth and Feizor Shottle L Melody both sold for 10,000gns. Both calves are bred from top UK show animals and where purchased by the Beth Syndicate and Wilsbro Farms, respectively.
The sale mangers would like to express there sincere thanks to everyone who helped make this sale such a success, and would like to wish all the purchasers much success in the future with their animals.
Averages:
61 Holsteins - £5097
3 Jerseys - £3640
64 Overall - £5029

RABDF Council Member Awarded BBC Farmer of the Year


Lactaid Milk Cheque Booster for Ian


2009 Semex Dairy Conference - Changing Channels