31/10/08
Details of the new Scottish Agricultural College (SAC) 'Grass and Clover Varieties for Scotland 2008-9' recommended list have just been released, and confirm the success of the Barenbrug/AFBI perennial ryegrass breeding programme.
Gerry Hoppe of AFBI examines some of the AFBI/Barenbrug varieties, which are being trialled at the SAC Aberdeen trial site.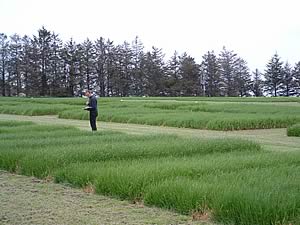 Kilrea and Donard are at the top of the list of early heading varieties in the perennial ryegrass (diploid) table. Heading eight days later than Donard, Kilrea is described as an 'outstanding variety' by combining very high yields with excellent quality throughout the cutting and grazing season from spring through to autumn.

Malone and Dunluce are two of the highest yielding intermediate heading tetraploids. Malone, at the early end of the group, combines yield – achieving a mean conservation yield of 105 percent – with exceptional spring growth and high digestibility. Barenbrug UK's forage specialist David Long says: "Malone's consistent results make it an ideal selection for any long-term cutting and grazing mixture especially where early season growth is an important factor."

Dunluce, with a 12 day later heading date than Malone, also gives an excellent performance throughout the growing season, combining yield – 105 percent grazing yield in year-two – with quality, two essential attributes for inclusion in any long-term multi purpose grass seed ley.

Tyrella, is the new, late heading diploid ryegrass, which has exceptional spring growth. Its early season growth, by far the best in its class, yet late heading means that Tyrella is easy to manage and a key choice for any long-term grazing and cutting ley.
Finally Dunloy, a late heading, tetraploid ryegrass variety, contributes exceptional quality, it is the most digestible variety in its class. These attributes have been confirmed in Barenbrug's own UK-based grazing trials where it is one of the most palatable, whether grazed by sheep or dairy cows.


New Herbicide Guidance for Winter Wheat Growers


Pragmatic Approach to Late Drilling Essential


Continued Healthy Financial Performance for United Oilseeds