23/10/08
Don't be tempted to plough-on regardless and muddle late wheat into poor seedbeds just to get something into the ground quickly if conditions continue to be against you.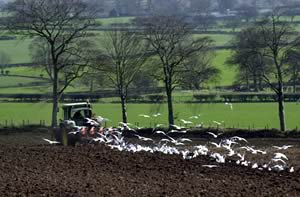 Instead, spray off the green bridge, plough as soon as conditions allow and give the land the opportunity to recover. Only sow when conditions are right regardless of sowing date. And be prepared to consider spring cropping or fallowing, particularly where soil structural damage is severe or drainage problems need correcting.

This is the salutary advice from CSC Crop Protection technical director, Jim Rennie to growers in Scotland and northern England struggling to cope with the aftermath of the single most difficult harvest in recent memory and continued saturation throughout the soil profile.

"Time prevented 70% or more of the 2009 winter oilseed rape crop being sown in these areas," he points out. "And winter cereal drilling is miles behind schedule. So most growers are under acute pressure to drill as much wheat as possible, as quickly as possible.
"However, they could easily be throwing good money after bad by trying to cobble winter wheat into vulnerable ground late in the year without due care and attention. Especially with current input and crop prices giving so little margin for error in arable profitability, not to mention the risk of serious soil structure and weed problems for the future."

Under these conditions Jim Rennie recommends a thoroughly pragmatic and, above all, flexible late-season approach. Care in crop selection will be vital in both agronomic and marketing terms.

The first essential in his approach is to tackle the huge weed burden in the stubble then plough it as soon as possible to give the ground the maximum opportunity to dry out.

"Last year's stubbles were the greenest most people had seen," he observes. "But this year they're even greener. So you need to go in with a good dose of glyphosate without delay. With time and the weather against you, insist on a modern formulation like Roundup Max or Energy. They work far better under tough conditions, are rainfast on annual weeds in just an hour and allow you to cultivate as little as six hours after spraying.

"After this get ploughing as soon as you can do it without the wheel slip in the furrow that's the main cause of structural damage. Then wait to see whether the ground dries out enough to let you prepare a reasonable seedbed up to the end of November or beyond. If it does, get on and drill your wheat. But if it doesn't go for a spring crop or fallow."

Spring malting barley looks a good option, but only if you can achieve top quality, in Jim Rennie's opinion. He's very cautious about feed barley, though, pointing out there could be an awful lot of it about next year which won't bode well for prices.

He also sees good prospects for quality spring wheats with milling premiums as they are. But only for the earlier ground since later crops tend to be variable. The same goes for spring beans given the danger of late harvesting problems.

While spring rape growing jumped in Scotland after the last seriously late harvest 12 years ago, Jim urges caution here too as many growers who went down this route are only just recovering from the volunteer problems it caused.

For many he suggests fallowing could well be a better option, with a cover crop such as Indian mustard grown to increase soil drying, improve drainage and capture nutrients for the greatest economic and environmental value, while providing a better, early first wheat entry than a spring crop.

"If you can't get your winter wheat in and have to consider any of these alternatives, don't just think of them as making the best of a bad job," urges Mr Rennie. "See them as an opportunity to correct drainage problems, improve soil structure and to get rotations back on track next year."

"They also offer a golden opportunity to tackle the build-up of grass and other weeds many growers are seeing, for instance. Modern, tough condition Roundups are highly effective against annual weeds like bromes as well as broadleaves throughout the winter and early spring wherever frost doesn't persist throughout the day. And fallowing extends early weed control opportunities ahead of next autumn's drilling.

"Yes, this season is asking more questions of growers than most," he accepts. "But the secret of success will be to answer them in the right way rather than just putting your head down and ploughing-on regardless this back-end."

Continued Healthy Financial Performance for United Oilseeds


Hidden Mycotoxins Threat in Grains and Forage


Cultivate with Care to Avoid Further Soil Damage