New Value Line Compact Tractor from John Deere
01/09/08
John Deere's 3036E compact tractor is the first of a new value line of machines to be made available in Europe.
John Deere's 3036E compact tractor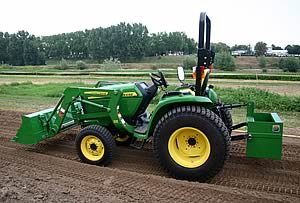 It is designed to provide a wider range of customers with a more economical alternative to the higher specification machines in the 3020 Series range. Typical applications would include smallholdings, orchards, stables and paddocks, or any area of land that needs a quality tractor without the extra cost of a full professional specification.

Powered by a 36hp Yanmar three-cylinder diesel engine, this new 4WD open station tractor is built by John Deere and features the same reliable performance and build quality as the rest of the company's 20 Series models. The 3036E uses an established hydrostatic transmission with easy to operate Twin Touch pedal controls, making it the only value line hydro compact tractor on the market.

Ergonomics and operator comfort are the equal of Premium models, with standard features including power steering, cruise control, wet disc brakes, rear 540rpm pto and three-point linkage with up to 615kg lift capacity (at 24in behind the lift ends).

There is a choice of agricultural, industrial all-purpose or turf tyres, and the tractor is available with its own dedicated 305 front loader, with a lift capacity of up to 336kg. The new 3036E compact tractor will be available from spring 2009.

Case IH Wins in China


CLAAS Increase Output Potential on High Capacity Combines


New McCormick Tractor Takes a Ferry Ride to Loch Lomond Island