CLAAS Increase Output Potential on High Capacity Combines
28/08/08
CLAAS UK is extending the availability of the unique10.5m wide VARIO cutterbar to other models for 2009, following its highly successful launch last year. In addition CLAAS will offer top-end combine users a new "Business" package to further enhance harvesting efficiency using the very latest technology.
Lexion 580+ with 10.5m cutterbar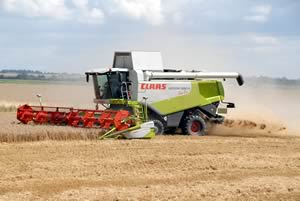 LEXION 600 and 580+
For the 2009 harvest, CLAAS is to offer LEXION 600 and LEXION 580+ purchasers new specification options designed to help further increase output and further improve productivity.

Such has been the huge demand from LEXION 600 users for the new 10.5m wide VARIO 1050 cutterbar, that in its first season it has been specified on 10% of all CLAAS combines sold for 2008.

In order to meet customer demand from LEXION 580+ users who also want to benefit from the performance benefits that the VARIO 1050 offers, CLAAS is to extend availability to this model.

In addition CLAAS is to offer a new 'Business Pack' for LEXION 600 and LEXION 580+ for those who are looking to take advantage of the output benefits that the latest CLAAS electronic technology can offer.

For combines specified with the Business Pack, this will bring together a complete electronic technology package to help monitor and improve the combine's performance. Included in the Business Pack will be CEBIS yield mapping, fuel monitoring, crop book data and CLAAS TELEMATICS.

Launched two years ago, the unique CLAAS TELEMATICS performance monitoring system has helped to revolutionise the way that many operators have controlled their harvesting systems.

In addition to the benchmarking, machine location and live yield monitoring functions that TELEMATICS offer, one of the most useful features is the harvest efficiency analysis function. By being able to analyse all aspects of the harvesting process, including how, when and where the combine unloaded, this provides the information needed to refine the system and so increase productivity.

For instance by using this information, in 2007 having studied the information provided from the 2006 harvest, by tightening up his trailer logistics and reducing idling time by 7%, one customer increased the actual harvesting time by 8% to where the combine was working for 81% of its time, making it the most efficient in the UK.

New Tucano options
Following the extremely successful launch of the new TUCANO range last year, a number of specification upgrades will be available for 2009 machines.

As standard, TUCANO 450 and 430 models will now come with a new Special Cut straw chopper, which will also be an option for TUCANO 440 and 320 models. This new straw chopper features a greater number of blades in order to provide improved chop quality. In addition it features a new open spreader chute and spread width control to ensure an even distribution across the full width of the cutterbar.

One of the main features on the new TUCANO range when it was launched last year was the availability of a new colour version of the CLAAS CEBIS control and monitoring system. For 2009, CEBIS will now come as standard with a new larger 6.4 inch screen, or as an option an even wider 8.4 inch screen can be specified that incorporates a flash card reader.

Steering options
For 2009 CLAAS will be offering a complete range of automatic steering options to help further increase precision and productivity.

In addition to the well proven LaserPilot system, CLAAS is to now also offer the GPS PILOT satellite based steering system as a factory fitted option. This has the benefit that with accurate bout matching it ensures that short-work can be kept to a minimum.

Depending on the level of accuracy required GPS PILOT can be used in conjunction with Egnos and Omnistar HP or for the greatest level of accuracy down to 2cm with the CLAAS Baseline HD or RTK tripod mounted base-station units.

New McCormick Tractor Takes a Ferry Ride to Loch Lomond Island


Claas Complete Tractor Renewal Line-Up with Axos


New 3-Point Mounted Tedders from Kuhn