New McCormick Tractor Takes a Ferry Ride to Loch Lomond Island
26/08/08
It was a delivery with a difference when McCormick dealer Fraser Robb handed over the keys to a new tractor last week. [Thursday, August 22] Customer Mike Harding purchased the tractor to work on Inchfad Island on Loch Lomond. The only way to reach the place is by boat.
Easy does it – the new McCormick CX95 tractor makes its way through Loch Lomond's waters before climbing the pontoon ramp.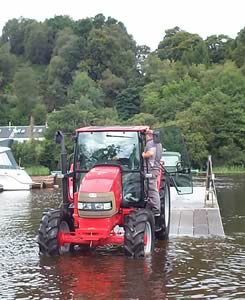 "Fortunately, Mike's well used to ferrying everything he needs and is well-equipped for the task," says Fraser Robb, whose agricultural engineering business is based at Drymen, Stirlingshire, just a couple of miles from the eastern shore of the loch. "We had to reverse the tractor through a couple of feet of water but then it was up the ramp on to the pontoon that Mike uses to ferry larger items like this to his island."

The new 90hp McCormick CX95 tractor replaces two older machines for some light field work and general maintenance on the island.

"It's an ideal machine for that sort of work," says Mr Robb. "There's enough power to handle a range of implements and the cab's nice and roomy."

His tractor and machinery dealership, Fraser C Robb Agricultural Engineers, took on the McCormick franchise in January this year and says things have been going well, with "a fair few" tractors supplied to existing and new customers.

"There's such a broad range of models, from small compact tractors to the biggest arable machines, that we really do have something for everyone," he says. "But supplying them doesn't usually involve this unusual method of delivery."

Claas Complete Tractor Renewal Line-Up with Axos


McCormick Tractors Return to Billingshurst After 30 Years


New 3-Point Mounted Tedders from Kuhn