Fullwood Give Farmers More Control at Milking Time
19/09/08
Fullwood has this week launched a number of cost and labour saving products at this year's Dairy Event (stand number EH2-238) that are designed to improve in-parlour productivity.
The FlowMatic Plus milking controller from Fullwood controls the complete milking process including automatic cluster removal and pulsation control.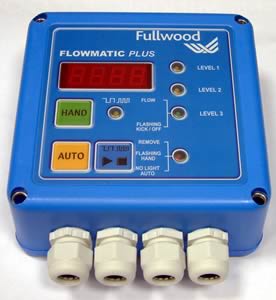 The products are part of an ongoing initiative from Fullwood to give farmers a greater degree of control over their parlour's functions and to improve both operator working conditions and animal welfare.

Firstly, the company has extended its range of milking controllers with the addition of its new entry-level MicroMatic cluster remover and the FlowMatic Plus milking controller. John Baines, Fullwood's technical director, explains that these products provide a cost effective alternative to Fullwood's high-end milk monitoring and automatic sampling control units.

"MicroMatic is a dedicated cluster removal controller that has the ability to accurately measure low milk flows," Mr Baines outlines. "This ensures that cluster removal occurs at precisely the correct time and prevents over milking as well as safeguarding udder health and milk quality." The unit can be fitted to any type of parlour and has no wearing parts, making it completely maintenance free. It is particularly suitable for low milk flows and is therefore not only designed for milking cows, but also for sheep and goats.

The FlowMatic Plus is a new generation of milking controller that has all the benefits of the MicroMatic with the additional function of controlling pulsation speed. "The system controls the complete process during milking and supports automatic or manual stimulation at the start of milking to encourage milk let down," Mr Baines explains. He adds that the FlowMatic Plus has an operator terminal that displays valuable information including milk flow, milking time and stage of milking and provides early warnings of abnormal milking. All of which are effective tools for monitoring milking and improving udder health.

Fullwood has also launched an updated version of its AugerMaster in-parlour feeder. The redesigned AugerMaster II now offers improved feed dispensing accuracy which not only helps to reduce wastage, but also allows greater control over individual cow rations. This in turn can help to reduce feeding costs and improve milk production explains Mr Baines.

The new AugerMaster II mounts directly onto the parlour wall and can easily be installed into existing parlours. And being fabricated from an all-plastic design, it boasts improved corrosion resistance as well as an extended working life.

The new Fullwood low energy vacuum pump which has also been launched at this year's Dairy Event, is designed to reduce the amount of energy that is used during milking. Mr Baines says that for most of the time during milking, full operation of the vacuum pump isn't required. Full capacity is required during washing, he says, but once milking has started, full vacuum reserve may only be needed when clusters are being attached or kicked off.

With the new low energy vacuum pump from Fullwood, pump capacity is only made available as and when needed. In this way, it has the potential to more than halve electricity costs for running the vacuum pump and can pay for itself within six to twelve months estimates Mr Baines.

"At a time when farm input costs are rising dramatically, Fullwood has been working hard to provide a range of solutions that not only help farmers to save money, but also add a greater degree of accuracy within the milking parlour," Mr Baines adds. "Our new products have been designed so that they are both operator and animal friendly and can be retro-fitted into existing milking systems, giving dairy farmers the chance to easily upgrade their current facilities," he concludes.

A Critical Time for Tenanted Dairy Holdings


Semex Holstein Sires Create a Storm in August Proofs


Finalists Line Up For Gold In NMR/RABDF Gold Cup 2008