Claas Complete Tractor Renewal Line-Up with Axos
22/08/08
In the five years since they took a majority shareholding in Renault Agriculture, CLAAS has invested heavily in the plant and the design and development of new replacement models.
Claas Axos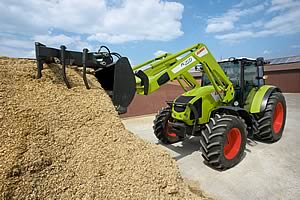 Following the launch of the AXION and the new ARION range last year, CLAAS has now completed the line up with the addition of a new model, the AXOS to replace the Celtis, which was the last of the 'Renault' models inherited by CLAAS.

The new AXOS range consists of four models - the AXOS 310, 320, 330 and 340 – which have power outputs of 75hp, 87hp, 92hp and 102hp respectively.

In designing the new AXOS range, CLAAS has looked at the wide range of tasks that tractors of this size are expected to handle, from field work such as fertiliser spreading or mowing, to trailer work or handling work with a front loader. In addition, markets such as local authorities and specialist vegetable growers also have specific requirements that have been taken into account.

In order to meet these varying market requirements, three differing specification levels are available - C, CL and CX – reflecting the differing transmission and cab options fitted to these models.

Whilst compact in design, the new AXOS range has a long wheelbase and even weight distribution to provide stability on the road and increased lift capacity. Maximum ground clearance is 490mm making it ideal for field work, but a tight turning circle also ensures the AXOS is just at home working in buildings and tight spaces.

For fast and easy access to the engine, all AXOS models feature a one-piece bonnet and an easy access cooling package layout. In addition all models also feature a moulded rear wing style for increased durability.
High performance engines
Because tractors of this size do not need the electronic sophistication and engine management systems found on higher horsepower models, CLAAS has opted to use Perkins 1104D-44TA engines for the new AXOS range.

These 4-cylinder engines have a cubic capacity of 4.4 litres and feature a mechanical injection system with a 2-valve cylinder head, a wastegate turbocharger, exhaust gas recirculation plus an intercooler on the two higher powered models, and fully meet Tier 3 criteria.

The high efficiency of these engines means that which they offer a wide constant power band of up to 300rpm and up to 45% of torque back-up. This ensures that there is plenty of power available at all speeds, but the engines are also very fuel efficient and performance is comparable with Tier 2 DPS engines previously used.
Transmission options
To meet the wide range of tasks that tractors of this size are used for, a total of three transmission options are available.

In its simplest form, AXOS C models come with a fully mechanical two-range, 10 forward, 10 reverse speed 40kph transmission, which for maximum flexibility has 6 speeds within the 6-15km/h speed range. In addition there is also the option of a mechanical splitter to double the number of gears available.

AXOS CL models are fitted with a new version of this base 10F/10R transmission, which uses the CLAAS REVERSHIFT electro-hydraulic clutchless reverser for direction changes. With the availability of three declutching options (dashboard, gearstick or pedal) and no need to declutch when changing direction, this makes this transmission ideal for use on tractors fitted with a front loader.

The highest specification AXOS CX models feature the well-proven TWINSHIFT 20 forward, 20 reverse transmission which incorporates an electro-hydraulic splitter operated using buttons on the side of the gear lever, plus the REVERSHIFT reverser.

As an option for specific operations such as vegetable work, a third creeper range of speeds can be specified giving a minimal speed of 400 metre/hour.
Cab options
As with all CLAAS machines, operator comfort is a priority and was a major consideration when designing the new cab for the AXOS range. Two levels of cab specification are available, again dependent on model and anticipated market requirement.

Manufactured in the new CLAAS cab manufacturing facility at Le Mans, the spacious cabs have sufficient room for a passenger seat and feature front opening doors that can be locked open. Depending on specification, the cabs are fitted with the new adjustable steering column with self-cancelling direction indicators as fitted to the ARION range, and also feature a new dashboard with digital displays, plus they both have a large glass panel in the roof, which is ideal when using a front loader.

In standard specification, the AXOS C and CL are both fitted with a low-profile cab which gives the tractor an overall height of less than 2.50m. The highest specification AXOS CX has a new high-roof cab which provides increased headroom and a maximum height of 2.65m.
General specification
In view of the fact that a high proportion of these tractors are likely to be used with front loaders, all AXOS models feature a new high capacity hydraulic system, powered by a 60 litre/minute Bosch pump. Bosch zero-leak spool valve connections are also fitted, which have sprung dust covers and a waste oil reservoir.

To accommodate the wide range of powered implements likely to be used with the AXOS range, up to three PTO speeds (540, 540E and 1000) are available with a new design of interchangeable shaft, which are either mechanically or hydraulically selected.

In addition a new telescopic pick-up hitch is fitted to AXOS CX models and there is the availability of three differing exhaust positions, plus the option of a 2.8t capacity front linkage and PTO.
Front loader options
It is anticipated that around 50% of AXOS models sold will be fitted with a front loader, and with this in mind new fitting brackets for the CLAAS FL loader range have been designed which have rear axle support in order to evenly spread the load.

The AXOS has been designed so that it can be fitted with both the PRO PILOT single lever mechanical control or FLEX PILOT hydraulic single lever control systems.
AXOS model overview
Model

Specification

AXOS C

Anticipated market: Small farms, vegetable growers, Councils

Low profile cab
10F/10R 40kph mechanical transmission + splitter option
540/1000 rpm PTO with mechanical engagement
Mechanical linkage control
Fixed steering column
Through bonnet exhaust

AXOS CL

Anticipated market: small stock farmers, loader work

Specification as above plus:

Low profile cab with glass panel
10F/10R transmission with REVERSHIFT
540/100 rpm PTO with hydraulic assist engagement
Adjustable steering column

AXOS CX

Anticipated market: larger livestock farms or mixed farms

Specification as above plus:

· High roof cab with glass roof

· 20F/20R TWINSHIFT transmission with REVERSHIFT

· Air conditioning

· Air seat

· Hydraulic push back hitch

· Passenger seat

McCormick Tractors Return to Billingshurst After 30 Years


New 3-Point Mounted Tedders from Kuhn


British National Ploughing Championships Return to Kent