SAME Tractors Could Save Farmers Money
12/08/08
A1 Tractors, one of the North of England's leading farming suppliers, believes its new range of SAME tractors will save UK farmers money as the reality of escalating input costs starts to bite.
The A1 Tractors team (with a new SAME IRON 150). From the Left, Frank Ward (Joint Managing Partner), Matthew (Apprentice), Richard Ward and Keith Broughton (Service Manager).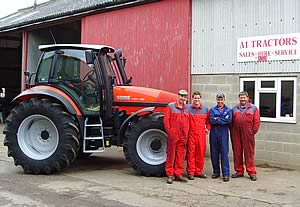 With farming expected to become more expensive as 2009 harvests are squeezed by rising fuel, fertilizer and machinery costs, A1 Tractors believes the fuel efficiency, enhanced reliability and lower maintenance bills from the SAME range will save farmers money in the long run.
The majority of the SAME range is powered by the latest Common Rail Deutz AG 2012 engine. Unlike many of its rivals it has a twin fuel pump arrangement for reducing machinery stress and wear whilst increasing reliability. SAME Deutz Fahr (SDF) was also the first tractor manufacturer globally to introduce a bio-diesel powered tractor and is a leader in aiming to reduce emissions and fuel costs.
A1 Tractors is pleased to be able to provide this tractor technology to the UK farming community.
Managing partner of A1 Tractors, Frank Ward said: "I welcome anyone that is unfamiliar with SAME to take this opportunity to come and see the tractors for themselves or visit our website, where they can find more details. The Deutz 2012 engine is, I believe, one of the best on the market. Often on common rail engines poor quality diesel and contaminants can damage the fuel pump which is expensive to repair. Deutz though have come up with a novel solution; the pumps are lubricated by engine oil rather than fuel."
Ward added: "I have every confidence that my fellow farmers will be very impressed with the current SAME range and appreciate the comfort, ease of use and value for money these tractors provide." Keith Broughton, A1 Tractor's Service Manager, is impressed with SDF and Deutz AG engines.
"The training and support SDF provide to dealers is second to none and SAME reliability has been excellent over the years I have worked for A1 Tractors. Independent test reports praise the Deutz 2012 engine both its fuel economy and noise levels given the amount of power generated proving its' everyday capabilities." he said.
A1 Tractors provide full dealer facilities and a hire fleet including examples of SAME's innovative tractors and extensive workshop services. Attractive 0% finance options for new sales are available subject to status.
For more details visit the recently relaunched A1 website at www.a1tractors.com

UK's Biggest Mixer Wagon Demonstration


Case IH to Sponsor Craig Morgan "International Harvester" Tour


Landini Launches 6544 'Large Compact' Tractor