UK's Biggest Mixer Wagon Demonstration
31/07/08
Complete diet feeder demonstrations will be one of the main activities featured at the Dairy Event and Livestock to be staged on 17 and 18 September at Stoneleigh Park, Coventry by its organisers the Royal Association of British Dairy Farmers.
Dairy manager, Nigel Armstrong at the wheel of a John Deere 7820 tractor pulling a JF-Stoll VM 30 feeder, one of the family of WestMac machines that will be featured in the demo area at this year's event. It was taken in the dairy buildings at the University of Nottingham Dairy Farm, Sutton Bonington Campus which carries a 225 dairy cow herd.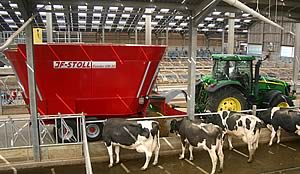 The John Deere sponsored demonstrations will be the biggest in the UK this year and they will represent all the main types of mixer wagon currently available including paddle, auger and tub designs.
Visitors will be able to observe the preparation of two different Total Mixed Rations, for dairy cows and also for beef finishing cattle, based on clamp and big bale silage. They will also be able to compare ease of loading and feed out of the individual mixer wagons. Each machine will demonstrate twice, in rotation on both days. In addition, visitors will have the opportunity to view the mixing operation from a specially constructed high level gantry
RABDF chief executive, Nick Everington comments: "This year's mixer wagon demonstrations will continue to build on the success of previous events which attracted immense interest from not only dairy farmers, but also beef, sheep and commercial goat producers. A mixer wagon is now an essential piece of equipment for livestock farmers not only eager to maximize their animals' performance but also make savings on escalating feed costs and bring labour savings. This technical demonstration is designed to help farmers make a more informed decision before investing in a complete diet feeder and also give machinery dealers an update on the latest specification and performance of each model"

Case IH to Sponsor Craig Morgan "International Harvester" Tour


Landini Launches 6544 'Large Compact' Tractor


McCormick Tele-Trac - it's a Tractor as well as a Handler