Longtown Primestock Sale
26/06/08
The Cumberland & Dumfriesshire Farmers Mart P.L.C. had forward 94 prime cattle, 3 young bulls, 44 OTM cattle, 1,205 prime hoggs, 2,215 prime lambs and 4,116 cast ewes & rams at their weekly sale at Longtown on Thursday 26th June, 2008.
Although the clean cattle averages show a drop on the week the overall quality was not as good as last week. Top price of 196.5p for a Limousin heifer from J. Oliver & Son, Walton Woodhead, others to 193.5p Hallburn, 186.5p Guardrum, 183.5p Snade Farm and Toppin Castle, 182.5p Walton Woodhead; Charolais 176.5p Hallburn. Limousin bullocks sold to 189.5p from D. & E. Lockhart, Faulding Cleugh, 187.5p The Gill, 186.5p and 184.5p Dashwellgreen, 183.5p Toppin Castle, 182.5p and 181.5p Faulding Cleugh, 180.5p Toppin Castle and Dashwellgreen; Belgian Blue 176.5p The Gill and Sceughdyke; Charolais 174.5p and 172.5p Hallburn; Angus 165.5p Sceughdyke. Young bulls sold to 154.5p for Limousins from T. & M. Irving, Becton Hall.
More OTM cattle were on offer, with all classes meeting late extreme rates with Charolais bullocks to 147.5p (£988) from Kirtleton Hill, 128.5p Cambeck Hill; Angus 123.5p (£950) Scugg House; Black & White 121.5p (£741) Holmefoot; Highland 108.5p Kirtleton Hill. Black & White heifers 123.5p (£913) Scugg House. Limousin bulls to 107.5p Brisco Hill. Charolais cows to 132.5p (£927) Holmefoot; Simmental 132.5p Morley Hill; Limousin 130.5p (£1,004) Morley Hill, 124.5p Cambeck Hill; Blonde d'Aquitaine 129.5p Brisco Hill, 127.5p Cambeck Hill; Angus 126.5p (£803) Barnglies; Hereford 124.5p and 122.5p Barnglies; Black & White 119.5p Windy Hill, £940 Smalmstown; Belgian Blue 117.5p Townhead.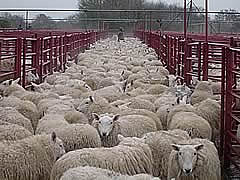 The 2,215 prime lambs saw trade steadier on the week with a shortage of lambs over 40 kilos. The overall sale average was 143.5p per kilo. The sale was topped at £79.80 per head for Texels from Messrs Musgrave, Cardew Hall and to 167p per kilo for Texels from Messrs Bell, Woodhouselees. Texel £79.80 Cardew Hall, £73.50 Auchenhill, £72 Cardew Hall; Suffolk £77.80 Cardew Hall, £73.80 Upper Mains, £71.80 Skelfhill; Charollais £70.50 Hallburn, £69.80 Cardew Hall; Half Bred £69.80 Spoutbank; Zwartbles £61.50 Stanley House; Lleyn £60.80 Guards; Oxford £60.50 Guards; Greyface £53.80 Broomhills (Baty).
The lightweight lambs were again a large show but proved harder to cash unless well fleshed types. Texel £56.80 Woodhouselees, £53.20 Middle Farm; Suffolk £51.20 Acreknowe, £45.20 Mossband House; Charollais £50.20 Brocklewath; Greyface £43.80 Blindhillbush; Herdwick £36.80 Jury Park; Blackface £34.20 Lowes.
Also forward were 1,205 hoggs, which met a marvellous trade for June, averaging 128.9p per kilo. The sale was topped at £69.50 for a Zwartbles from Stackbraes and to 135p per kilo for Cheviots also from Stackbraes. Zwartbles £69.50 Stackbraes, £62.50 Stanley House; Texel £68.50, £59.50 Stackbraes, £55.50 Glendearg; Herdwick £56.50 The Park Farm; Hill Cheviot £55.50, £50.50 Glendearg, £50.50 Murtholm; Blackface £54.50 Blindhillbush, £53.80 Auchengills; Greyface £53 Derwent House, £48.50 Winshield; Suffolk £52.50 Graystale, £49.50 Sykehead, £49.20 Slodahill; North Country Cheviot £48.80, £46.80, £45.80 Broomhills (Marrs); Swaledale £42.50 Morley Hill, £41.50 Black House.
With the largest company of buyers present for a long time, the 4,116 cast ewes and rams saw trade the dearest for a long while with numbers well short of buyers requirements. Overall average of £49.10 per head. Top of £84.50 for heavy Texel cross ewes from Yulescroft, others to £80.50 North Farm; Charollais £78.50 Colter Coats; Beltex £77.50 Tercrosset, £76.50 Sunnycroft; Suffolk £75.50 Lands, £74.50 Springfield; Suffolk cross £74.50 Tiffenthwaite and Roadside; Leicester £67.50 Highberries, £66.50 Bellmount; North Country Cheviot £61.50 Waterloo; Cheviot Mule £60.50 Hallburn; Greyface £58.50 Cleifoig, £57.50 Sunnycroft. Hill ewes to £50.50 for Blackfaces from Quarry House; Cheviot £49.50 Winterhope; Jacob £48.50 East Mains; Swaledale £42.50 Station Road, £41.50 Byers Hall; Herdwick £33.80 Bleng Farm. Rams to £73.50 for Charollais from Aikton (Holliday); Texel £72.50 Ballyclare; Beltex £70.50 Ballee; Suffolk £69.50 Flex; Leicester £66.50 North Farm; Cheviot £56.50 Sockbridge Hall; Blackface £36.50 Lowes; Swaledale £22.50 Eals.
Averages:
Steers
Light to -------p (-------p)
Medium to 189.5p (174.9p)
Heavy to 187.5p (166.5p)
Heifers
Light to -------p (-------p)
Medium to 182.5p (164.1p)
Heavy to 196.5p (165.9p)
Young Beef Bulls to 154.5p (135.2p)
Hoggs
Light to 120.0p (104.3p)
Standard to 131.0p (112.8p)
Medium to 135.2p (110.8p)
Heavy to 140.6p (108.8p)
Shearlings to 124.4p ( 86.5p)
Lambs
Light to 152.2p (129.6p)
Standard to 167.0p (142.2p)
Medium to 161.3p (149.0p)
Heavy to 157.0p (149.1p)
O/Weight 142.5p (127.4p)
Ewes
Light to £50.50 (£28.30)
Heavy to £84.50 (£53.97)
Cast Rams £73.50 (£52.29)

Longtown Primestock Sale - 19th June 2008


Longtown Primestock Sale - 12th June 2008


Longtown Primestock Sale - 5th June 2008