Longtown Primestock Sale
19/06/08
The Cumberland & Dumfriesshire Farmers Mart P.L.C. had forward 77 prime cattle, 3 young bulls, 33 OTM cattle, 1,409 prime hoggs, 2,514 prime lambs and 3,859 cast ewes & rams at their weekly sale at Longtown on Thursday 19th June, 2008.
The clean cattle easily met the dearest trade for years with bullocks averaging 177.9p and heifers 174.4p. All clean averaged £1064. Top price of 203.5p paid to J M Wharton & Son, Snade for a Limousin heifer, others to 201.5p Hallburn, 195.5p Toppin Castle, 189.5p The Snade. Charolais heifers to 185.5p Wickethorn, 180.5p Sceughdyke. Top gross priced heifers £1261 and £1212 The Snade.
Limousin bullocks sold to 196.5p from Hallburn, others to 194.5p Dashwellgreen, 194.5p, 193.5p Hallburn. 189.5p The Gill and Dashwellgreen, 187.5p Dashwellgreen, 185.5p Toppin Castle, 184.5p, 183.5p Dashwellgreen, 183.5p Uppertinwald. Blonde bullocks to 186.5p Toppin Castle, Belgian Blues 181.5p The Gill, Charolais 181.5p Toppin Castle. Top average heifers 190.5p (3) from The Snade, Top average bullocks 185.9p (5) The Gill, Toppin Castle, 184.3p (5) Hallburn, 181.8p (6) Dashwellgreen, 181.4p (18), Houghton House 179.5p (5). Top price Limousin bullock £1373 Houghton House, £1361 Hallburn; Charolais £1272 Sceughdyke; Belgian Blue £1297 The Gill.
OTM cattle also sold at late extreme rates, with Limousin cows to 139.5p Bleatarn and Uppertinwald, 137.5p, 134.5p Bleatarn, 133.5p Camping Holm, 127.5p Slealands. Angus cows 125.5p, 119.5p Sorbie, 111.5p Barnglieshead; Herefords 117.5p, 113.5p Kilnhill; Holstein 122.5p Evertown; Belgian Blue 121.5p Bonshawside; Galloway 109.5p Whitstonhill; Charolais bullocks 124.5p Gillalees. Limousin cows to £1032, £995, £921 Bleatarn; Holstein £937 Evertown; Angus £828 Sorbie Farm; Hereford £763 Kilnhill.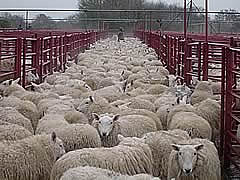 A larger show of spring lambs and trade was back on the week, but good well fleshed lambs were still sought after. A shortage of heavy lambs ensured they remained a strong trade. The sale topped at £85.50 for Suffolk x from E & A Graham, Upper Mains and to 190.9p for Beltex from G & A Scott, Summerhill. Other Suffolks to £84.5p Redgatehead; Texels £80.20 Summerhill, £76.80 Hallburn & Butterdales; Charollais £77.80 Cardew Hall; Greyface £67.80 Culquhasen; Oxfords £59.20 Guards; Dorset £59.80 Bellburn Sands.
The lightweight lambs were again sought after if they were well fleshed matching rates throughout the country.
Suffolk x £52 Connon, £50.20 Greenknowe; Cheviot £46.20 Johnstone Bank; Texel £57.80 Middle Farm, £55.80 Middle Farm & Keld Head; Greyface £46.20 Tarnside House; £42.80 Whitedyke; Blackfaces £42.20 Johnstone Bank; Kerry £46.80 Cowcorse.
The hoggs were also in demand if well fleshed. The sale topped at £79.50 for Texels from Messrs Gass, Nunscleugh and to 136.2p for Cheviots from Newington. Suffolks £53.50 Sykehead, £49.50 Stackbraes; Cheviot £54.50 Newington; Texel £79.50 Nunscleugh, £65.50 Newlands; Greyface £63.50 Stackbraes, £53.50 Graystale; Blackface £53 Hudspeth, £45.20 Graystale; North Country Cheviot £39.50 Waterloo; Swaledale £41.50 Sykehead; Shetland £45.50 Stackbraes,
Lightweight lambs Suffolks £37 Beechcroft; Cheviots £40 Beechcroft, £37.80 Sykehead; Texels £46.20 The Height; Greyface £38.50 Blindhillbush; Blackface £41.80 Sykehead, £39.20 Old Police House; North Country Cheviot £43.80 Plumpe; Swaledale £37.80 Sykehead, £34.80 Pasturewood.
The cast ewes and rams were a larger show with all classes easily maintaining last weeks high rates. Top was £78.50 for Texel ewes from Mallsgate, others to £77.50 Newry, £76.50 Newlands; Suffolks £70.50 Cardew Hall; Beltex £72.50 Greena Villa; Suffolk x £71.50 Cardew Hall; Halfbreds £60.50 Greeknowe; North Country Cheviots £64.50 Waterloo; Charollais £61.50 Ballyclare; Leicesters £59.50 Parcelstown; Rouges £68.50 Newry; Lleyns £49.50 Priorsford; Greyfaces £58.50 Muirhead, £53.20 Greenknowe; £52.50 Newtown.
Hill ewes to £45 for Kendal Roughs from Priorsford; Cheviots £42.50 Gibsey; Swaledales £38.50 Laalsteins & Croglin High Hall; Blackfaces £43.50 Newtown & Berryfell; Herdwicks £38.50 Laalsteins.
Rams to £78.50 for Suffolks from Waterloo & Beltex from Winterhope. Texels £75.50 Crookholm; Charollais £72.50 Ballinlease; Cheviots £58.50 Waterloo; Blackfaces £54.50 Berryfell; Swaledales £26.50 Sockbridge Hall & Eals. Goats £29.50 Ballyclare.
Averages:
Steers
Light to -------p (-------p)
Medium to 166.5p (163.1p)
Heavy to 196.5p (178.4p)
Heifers
Light to 166.5p (166.5p)
Medium to 175.5p (161.1p)
Heavy to 203.5p (176.7p)
Young Beef Bulls to 161.5p (154.7p)
Hoggs
Light to 125.1p ( 97.7p)
Standard to 132.0p (110.3p)
Medium to 136.2p (113.9p)
Heavy to 133.6p (112.4p)
Shearlings to 103.5p ( 80.4p)
Lambs
Light to 160.0p (142.5p)
Standard to 179.4p (153.8p)
Medium to 190.9p (158.8p)
Heavy to 164.2p (157.6p)
O/Weight 159.4p (154.9p)
Ewes
Light to £45.50 (£26.40)
Heavy to £78.50 (£50.22)
Cast Rams £78.50 (£51.70)

Longtown Primestock Sale - 12th June 2008


Longtown Primestock Sale - 5th June 2008


Longtown Primestock Sale - 29th May 2008