New John Deere combines on show at Cereals 2008
19/05/08
John Deere's new combine range will be on show at the Cereals event for the first time in June. The John Deere stand will feature the 400hp T670i and C670i combines and the top of the range 530hp S690i model, all featuring the complete range of 'intelligent' harvesting technology.
John Deere T670i combine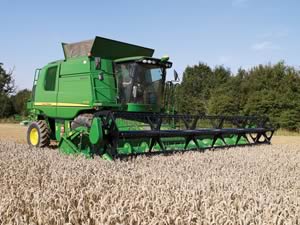 These i Series models are equipped as standard with HarvestSmart automatic feedrate control, AutoTrac assisted steering and Harvest Doc software. The i versions offer up to 23 per cent more output compared with their non-i equivalents.

With the introduction of the T Series tangential tine separator system, John Deere now offers customers five distinct threshing and separating technologies on its combines. This new system improves separation capacity and therefore combine output by a minimum of 15 per cent compared with previous models, while maintaining the same excellent grain and straw quality and low fuel consumption. This improved output is particularly noticeable when working in damp conditions or with high volumes of straw.

The new T Series threshing system has an active separation area of 3.36m2 on the six-walker and 2.83m2 on five-walker models, the largest on the market. This new technology has been in development since 2001, and has been fully tested in all the major European crops.

All these models are also available with the optional Hillmaster II levelling system, which offers full harvesting performance on slopes up to 22 per cent. The S690i Hillmaster combine complete with HarvestSmart and AutoTrac remains the highest capacity self-levelling combine on the market.

A choice of either the Original GreenStar or GreenStar 2 in-cab display systems is available for operating the Harvest Doc software. The on-screen mapping facilities of the 2600 GreenStar Display offer a new perspective on harvesting operations, with the ability to view yield and moisture maps directly in the cab.

In addition, Farmade's new Gatekeeper Essentials + Maps desktop software will allow GreenStar 2 users to further analyse their yield and moisture maps, record all in-field operations and create variable-rate application plans.

Claas Xerion and Kaweco Tanker Combination make Grassland Debut


Volac Topwrap 2000 launched


John Deere Gives Green Light to Pure Biodiesel